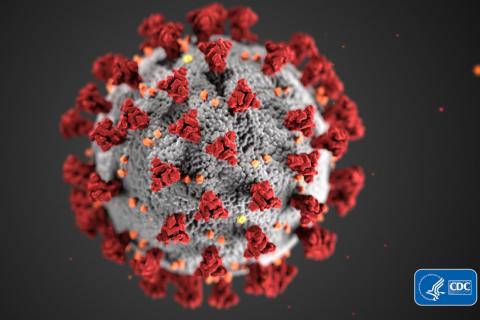 Image courtesy CDC/Alissa Eckert, MS
Updated October 6, 2021
NWCPHP has a variety of no-cost training resources for addressing the  COVID-19 pandemic. Six of these resources are certified as high-quality by the Public Health Learning Navigator.
Online Training Materials
Vaccination and Vaccine Hesitancy
Alaska Tribal Perspective on COVID-19 Vaccination Efforts
This one-hour Hot Topics webinar considers successful strategies for COVID-19 vaccine distribution in Alaska.
Vaccines, Public Health, and the Media
This one-hour Hot Topics webinar considers how to frame vaccine issues and promote responsible media coverage.
Building Vaccine Confidence Through Messaging
In this one-hour Hot Topics webinar, communications professor Devon Greyson explores ways to help public health professionals and clinical providers speak about vaccinations.
Clark County's 2019 Measles Outbreak: Vaccination Science, Controversy, and Public Trust
This one-hour Hot Topics webinar describes how Clark County Public Health in Washington State responded to a measles outbreak in a community with large populations of unvaccinated children.
Measles Elimination: Successes and Challenges in Alaska
In this one-hour Hot Topics webinar, Rosalyn Singleton, MD, MPH, shares how Alaska's health care providers, public health workers, and policy-makers helped to successfully eliminate endemic measles cases in their state.
Vaccine Hesitancy: Building Solutions for Washington State and Beyond
This one-hour webinar describes a unique partnership, Vax Northwest, to address the issue of vaccine hesitancy.
Communication
New! COVID-19 Information Navigator
This free training will support bilingual and multilingual community members in the important role of helping reduce the health information barriers by sharing vital health information with people in your community who have limited-English skills.
Managing Infodemics and Conspiracy Theories
This one-hour Hot Topics webinar reviews how public health professionals can make sure accurate messages cut through an abundance of information and help steer the public conversation.
Emergency Risk Communication
In this 2.5-hour course, you'll learn how to plan for an emergency, create effective messages, and interact with the media and community in times of crisis. This course is featured in the Public Health Learning Navigator.
Strategies for Successful Public Health Messaging
In this one-hour Hot Topics webinar, communications specialists from Washington State explore strategies for communicating public health messages.
Addressing Trending Topics on Social Media
In this one-hour Hot Topics webinar, a Digital Media Specialist from the Oregon Health Authority discusses tips and resources for public health professionals to better address trending topics like COVID-19 on social media.
Legal Issues
Practical Law for Public Health Officials
This 90-minute online course is designed to help public health leaders recognize legal issues, work effectively with legal counsel, and understand their legal responsibilities and authority. This course is featured in the Public Health Learning Navigator.
Legal Aspects of Public Health Emergency Preparedness
This online course is an overview of public health law issues in emergency preparedness. It raises questions to consider in the planning and delivery of public health or health care services in large-scale emergencies across multiple jurisdictions.
Disease Investigation
Every Contact Counts: Contact Tracing for Public Health Professionals
This 90-minute course will allow public health professionals who might not have experience with contact tracing to learn the basics and to be successful in reaching out to community members to save lives. It also provides an interactive learning experience through interview skill-building videos, quizzes, and an exercise to practice key decision-making during a contact interview. This course is featured in the Public Health Learning Navigator.
Introduction to Outbreak Investigation
This one-hour course outlines the specific steps in determining when an outbreak occurs, who should be involved in the investigation, and how to communicate information to the public.
The "One Health" Approach to Public Health Challenges in the Pacific Northwest
In this one-hour webinar, Peter Rabinowitz, MD, MPH, discusses the "one health" framework for connecting human, animal, and environmental health to address emerging disease challenges.
Zika Preparedness: Lessons for the US Public Health System
In this one-hour webinar, leaders from Washington State discuss what Zika preparedness means for the region's public health and emergency management systems and considers the importance of funding foundational public health services to be prepared at all times.
Leadership
Building Trust for Local Public Health
This one-hour Hot Topics webinar explores strategies for building trust and confidence in local public health.
Emergency Preparedness Leadership Series
This three-part series helps public health professionals develop leadership skills for emergency preparedness and response. It includes a brief overview of emergency preparedness leadership, as well as courses on three key topics for leadership during times of crisis, including managing change, making decisions, and communicating risks. This entire series is featured in the Public Health Learning Navigator.
Other Topics
Addressing Racism and COVID-19
This one-hour Hot Topics webinar explores the root causes of COVID-19 health inequities.
The Evolving Role of a COVID-19 Community Advisory Group
In the April 2020 Hot Topics webinar, a staff representative from Public Health—Seattle & King County's Pandemic Community Advisory Group in Washington shared how their multi-sector committee helped open lines of communication and partnership to mitigate the impacts of COVID-19, with a particular focus on vulnerable and disproportionately impacted communities.
Vulnerable Populations in Health Care and Health Research
This training outlines how health professionals can work with communities to understand and address the factors leading to vulnerability in specific situations, including situations that arise in the course of public health research and practice.
Preparedness and Emergency Response Learning Center Catalog
This online catalog features more than 400 training and learning materials to help public health professionals and their partners prepare for and respond to emergencies.
Additional Resources
NWCPHP In the News
University of Washington
Public Health Learning Network
Public Health Foundation/TRAIN
State Health Departments
Federal and International Agencies
The Northwest Center for Public Health Practice is one of ten regional Public Health Training Centers funded by the Health Resources and Services Administration.