This one-hour webinar describes a unique partnership, Vax Northwest, to address the issue of vaccine hesitancy. Vax Northwest is implementing and evaluating two pilot projects employing different strategies to get accurate and reliable information about vaccines to parents through sources they trust: other parents and healthcare providers. The community intervention consists of parents who support immunization engaging their peers in positive conversations about vaccines. This intervention is being evaluated through a randomized controlled trial in 50 clinics in King and Snohomish Counties.
This webinar is part of the Maternal and Child Public Health webinar series.
Intended Audience
State public health personnel working with mothers, women, children and youth, and families in Region 10, US Department of Health Services.
Presenters
Ginny Heller, MSW, Immunization Program Manager, WithinReach (a Washington State nonprofit organization), has an extensive background in coalition building, advocacy, and community-based health promotion. As the lead staff for the Immunization Action Coalition of Washington, she provides leadership in the development and coordination of the coalition's statewide immunization efforts including strategic planning, building public/private partnerships, and social marketing. She has an MSW degree in Social Work from the University of Washington School of Social Work.
Michele Roberts, MPH, Health Promotion and Communication Manager, Office of Immunization and Child Profile, Washington State Department of Health, is responsible for the state's immunization education activities and Child Profile, the state's health and safety education system. Child Profile sends 1.5 million immunization and well child reminders to 470,000 families each year. Michele has an MPH degree from Johns Hopkins Bloomberg School of Public Health.
Purpose
The Maternal and Child Public Health webinar series provides up-to-date information on topics related to Title V maternal and child health (MCH) national performance measures. A performance measure describes a specific need that, when successfully addressed, leads to better health outcomes. As part of the Title V Maternal and Child Health Services Block Grant, all state MCH agencies are required to report on their progress toward achieving the targets they set for these 18 national performance measures.
The series is supported by the Maternal and Child Public Health Leadership Training Program with a grant from the Maternal and Child Health Bureau, Health Resources and Services Administration. The program provides interdisciplinary, graduate-level training in maternal and child public health epidemiology and practice, including applied research, program planning and management, policy development, and advocacy.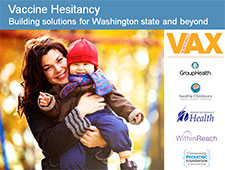 Air Date:
Thursday, September 13, 2012,

12:00 pm

to

1:00 pm

PDT
Topics:
Infectious Disease & Immunizations
Maternal and Child Health
Series:
Maternal and Child Public Health
Competency Domains:
Analytical/Assessment Skills
Communication Skills
Community Dimensions of Practice Skills
Financial Planning and Management Skills
Leadership and Systems Thinking Skills
Policy Development/Program Planning Skills