In the age of information overload, how can we encourage people to hear our messages and take action to protect their health? Who do people listen to during emergencies? How do public health agencies counter misinformation or explain complex issues?
In this one hour webinar, which is part of the Hot Topics series, communication specialists from Washington State explore these questions and more, addressing how audiences receive messages and what moves them toward action.
Public health communications are evolving at a dizzying pace. View this webinar to learn strategies for responding to the times and delivering more nimble health messages.
Learning Objectives
Recognize what determines credibility in high and low concern settings
Identify effective ways to inform the public about developing public health issues
Describe the importance of working with other partners in disseminating public health information and messages
Identify how public health messaging needs to change during different phases of a public health event
Intended Audience
Local, state, and tribal public health practitioners and their community partners; Public Information Officers and other Communication Specialists; Public health managers, leaders, and elected officials
Presenters
Tim Church, Communications Director, Washington State Department of Health
James Apa, Communications Manager, Public Health - Seattle & King County
Discussion Questions
Thank you for your interest in this Hot Topics webinar. These questions are designed to further your thinking on the topic covered in this webinar. You may print and discuss them with colleagues and other members of your organization before or after watching this webinar.
Do our organizations' communication plans include the use of other partnerships to target and help disseminate public health messages?
Do we differentiate our public health messages to different audiences and to different phases throughout a public health event?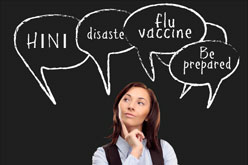 Air Date:
Tuesday, February 19, 2013,

12:00 pm

to

1:00 pm

PST
Topics:
Communication
Emergency Preparedness & Disasters
Vulnerable Populations & Health Disparities
Competency Domains:
Analytical/Assessment Skills
Communication Skills
Community Dimensions of Practice Skills
Cultural Competency Skills