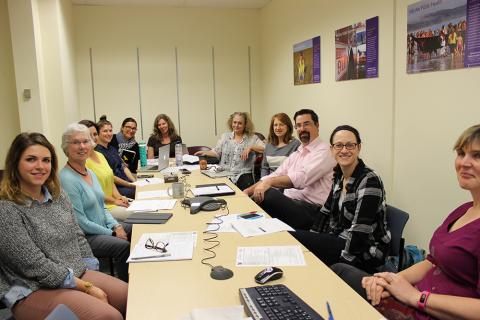 NWCPHP's PERRCoLATE team.
NWCPHP's PERRCoLATE research project investigates implementation realities to improve public health preparedness systems.
It's been a month of hurricanes, floods, wildfires, and earthquakes—disasters that underscore the need for training and planning so that public health agencies are ready in a disaster or emergency. But with time and resources for the everyday functions of public health increasingly scarce, it's more important than ever to invest in preparedness work that is proven to make a difference.
In collaboration with NWCPHP, the University of Washington's PERRCoLATE research project has been investigating how to build the evidence base for implementing preparedness system innovations in public health organizations. Funded by the Centers for Disease Control and Prevention (CDC), the project builds on years of CDC-supported research that has informed development of public health emergency preparedness tools and trainings to take the next step: investigating the key challenges and success factors for using these tools and trainings to improve the preparedness system.
"Our work has begun to expose implementation challenges to preparedness and emergency response systems in the United States," says Janet Baseman, PhD, MPH, principal investigator of the project. "We hope that by bringing these challenges to light, researchers and public health agency leaders will be able to start a conversation to come up with strategies for breaking down the barriers to better functioning public health preparedness and response systems."
To do this, the PERRCoLATE project field-tested three products that were developed through NWCPHP's CDC-funded Preparedness and Emergency Response Research Center (PERRC) and Preparedness and Emergency Response Learning Center (PERLC) projects. The products, all of which are available to the public at no cost, incorporate research evidence regarding improving communications during emergencies: an online training module that focuses on protocols and procedures for effectively communicating with the public about risks; a customizable "forced decision-making" tabletop exercise that focuses on applying evidence-based risk communications strategies as an influenza pandemic scenario unfolds; and an interactive toolkit designed to help agencies determine whether a text messaging (SMS) program will improve their communication capacity with the public, partners and hard-to-reach populations.
The PERRCoLATE project team worked with practice partners in local health jurisdictions across Washington State to closely observe the implementation of a selected tool or training in each agency. Over a 7-month implementation period, the team gathered evidence and insight about the everyday realities that need to be taken into account when emergency preparedness activities are designed and put into practice, such as the crucial role of leadership, problems of staff turnover, and the organizational differences between large and small agencies. This past June, the PERRCoLATE project held a national symposium to share these experiences and insights and discuss the next steps for further research.
Most public health professionals know the frustration of a well-intentioned tool or training that fails to serve its purpose because of flaws in design or implementation. With the PERRCoLATE project, the field of public health is one step closer to a set of best practices to ensure that preparedness efforts really do help public health agencies do their work better—and better protect the public's health.