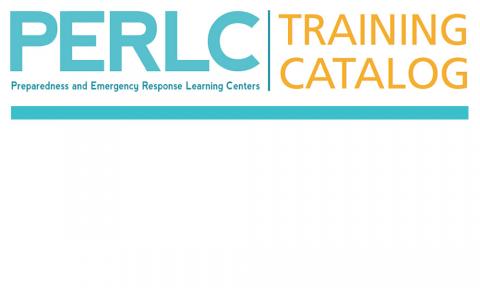 NWCPHP is pleased to announce the release of a new online catalog with more than 400 emergency preparedness trainings and other learning materials to enhance the skills of individuals and teams.
For local, state, and tribal public health agencies, maintaining a skilled workforce that can prepare for and respond to a variety of emergencies is a continuing challenge. With the new Preparedness and Emergency Response Learning Center (PERLC) Training Catalog, public health professionals will find more than 400 online training offerings and other learning materials to strengthen or reinforce their skills.
"Online training is increasingly seen as a cost-effective way to train staff in core preparedness and response skills but, in many cases, materials are scattered around the Web and are hard to find," said the project's lead faculty member Susan Allan, MD, MPH. "This new online catalog allows learners to search through hundreds of tested and validated resources in one convenient location."
Users can find trainings by keyword searches or filtering by format, topic, or CDC Public Health Preparedness Capability. Materials include online courses, informational briefs, exercises and drills, and toolkits and guides. Most resources in the online catalog are best suited for users looking to build awareness or begin their education in these topics. The materials work well for individuals who want to learn at their own pace, and are also excellent resources for trainers and facilitators looking for materials to develop in-person workshops. All trainings and resources are available at no cost.
Once users find a desired resource in the PERLC Training Catalog, a link will direct them to the corresponding website where that training can be accessed. This model is similar to the popular MCH Navigator, which serves as a hub for maternal and child health resources. Many PERLC Training Catalog courses can be accessed through TRAIN, one of the nation's largest online resources for public health learners.
One notable feature of the PERLC Training Catalog is the set of 21 curated training bundles, which help learners build knowledge related to the CDC's 15 Public Health Preparedness Capabilities and six other key topics. The materials included in each bundle have a high degree of interactivity, real-world applications, and multimedia elements.
The network of university-based Preparedness and Emergency Response Learning Centers, funded by the CDC from 2010–2015, developed the materials included in the PERLC Training Catalog. In 2016, the CDC funded NWCPHP to review the hundreds of online learning materials developed over that period and consolidate them into one user-friendly, searchable catalog.
Visit the PERLC Training Catalog and start learning today.