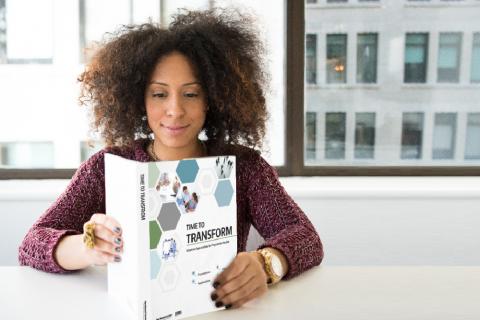 NWCPHP releases Time to Transform: Adaptive Approaches for Population Health, a toolkit to help public health agencies transition to more population health services.
Today's local health departments face unprecedented community health challenges. At the same time, many organizations find themselves moving away from a traditional clinical service model to one that focuses more on cross-sector, upstream interventions.
To adapt to these changes, many teams are searching for ways to strengthen their community partnerships and develop long-term planning strategies with them. The Time to Transform toolkit offers a path toward this transformation. With a four-step framework, the toolkit guides teams through the iterative process of organizational change.
Using the toolkit, teams can first build foundational knowledge to better understand the social and economic factors impacting health in their communities. Then, they apply that knowledge to population health scenarios they have faced in their own work.
Next, teams explore eight essential elements required for a successful shift to population health services, from vision and goal setting to sustainability planning. Finally, toolkit users have an opportunity to reflect on their team's progress through the transformation process, while identifying areas for potential improvement along the way.
Throughout the toolkit, case studies, activities, and resources provide evidence-based, practical tools to help public health professionals and their partners engage with the process of organizational change. The toolkit is an ideal resource for small and medium-sized public health teams, and the range of activities can also be used for collaborative work with larger groups of cross-sector partners and stakeholders.
Are you ready to transform? Watch a sneak peek of the toolkit in this video preview.
Time to Transform was developed collaboratively by NWCPHP and the Public Health Institute. The project was made possible thanks to the thoughtful contributions of local health department teams across the country, in particular the participants of the Learning Laboratory community of practice.
Read more about the free toolkit and its development by visiting NWCPHP's online learning center, PH LearnLink. Download your copy and begin your transformation journey today.