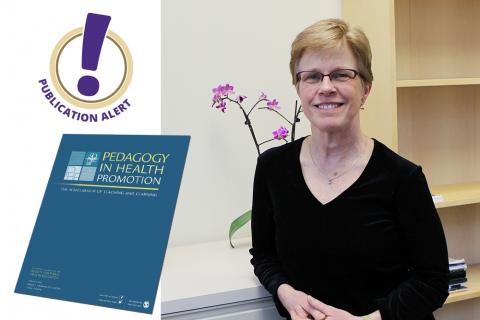 NWCPHP Director Betty Bekemeier and colleagues with the national Public Health Learning Network recently published an article in "Pedagogy in Health Promotion" that recommends needed changes to workforce development in order to address the prevailing multilevel challenges public health professionals face today.
Many assessments of workforce development focus on individual worker knowledge and skill-based training needs. The goal of this project was to explore systems-level gaps and opportunities for improving workforce development effectiveness on a larger scale. The project team's recommendations provide a guide for academic institutions, funders, and other important workforce development champions to better serve the practice community during these changing times.
"As is evident today with COVID-19, there is more work to be done in terms of effectively meeting the workforce development needs of our public health practice community. It was not a surprise that the essential learning needs explored in this paper are the same as those that have emerged during the initial response," Bekemeier said.
The paper "Results and Recommendations from a National Public Health Workforce Development Systems Assessment Conducted in the United States" summarizes findings from reports and other literature as well as interviews with public health professionals. The findings from this work offer three key recommendations—provide adaptive and experiential learning to address systems changes; increase skill building for community engagement and capacity to address health equity; and develop a comprehensive workforce development system.
The assessments and results of the two-phase project captured the shift in public health practice from direct service delivery to population health, as well as the increasing complexity in public health challenges that require multiple changes at organizational, community, and systems levels.
As professionals adapt to systems level changes, they are also needing more support on how to engage with and provide outreach to communities. "We've gone from kind of a service provider organization to more of a health strategist in the community," one participant said. "It's a new role for us. It's a new role for the community."
Bekemeier and her colleagues note two takeaways from this work are particularly relevant right now, in light of COVID-19—the importance of integrated thinking and the need to train and learn beyond academia. As part of the Public Health Learning Network, NWCPHP is developing learning experiences and materials, like the Public Health Management Certificate and student stipends, that support these concepts in state and local public health organizations.
The larger Public Health Learning Network is also engaged in national efforts that address these ideas, like promoting online quality training and training standards, participating in the reestablishment of a multi-agency consortium to coordinate a national workforce development strategy, and calling for more experiential training opportunities like residency programs for new public health graduates.
Referring back to the recent publication, Bekemeier noted, "With this effort, we really sought to identify what we could all be doing better as a national system to meet these needs."