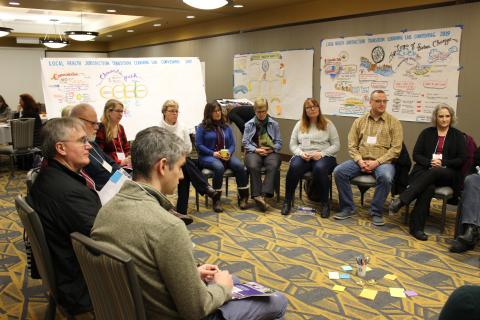 Participants in the 2018–19 Learning Lab.
Public health leaders from across the country gathered in Seattle for a two-day meeting to explore strategies for transitioning their health departments from direct clinical services to population health.
On February 6–7, public health leaders from across the country gathered in Seattle to explore strategies for transitioning their health departments from clinical to population-based health services. The two-day meeting was part of a larger year-long program called the Local Public Health Jurisdiction Transition Learning Laboratory, a joint project of NWCPHP and the Public Health Institute (PHI), funded by the Robert Wood Johnson Foundation.
The Learning Lab brings together five teams from health departments serving rural communities in Missouri, Montana, New Mexico, Wisconsin, and Washington. These teams are leaders in a process of reinvention that is becoming increasingly necessary in local health departments around the country. Prompted by political or funding changes, these health departments are starting to shift their focus from direct clinical services, such as administering vaccinations, to interventions that have a broader impact, like vaccine policy. This shift requires public health leaders to take a big-picture, systems-level view of health in their community, building coalitions with local partners to make sure medical needs are met, while also working upstream on issues that improve health at the population level.
Over the past year, Learning Lab staff have been preparing for the program by creating "case studies" which highlight stories of local health departments that have successfully transitioned from a clinical services approach to a population health approach. The insights and lessons learned from the case studies form a knowledge base that current participants are adding to as they work together both as a cohort and back in their own communities.
One recurring theme in this work recognizes the need for public health professionals to learn new ways to meet the challenges of today. "This program is unique because we are not saying we are the experts," said Sue Grinnell, Director of the Innovation Lab at PHI and co-Principal Investigator for the Learning Lab. "Through the case studies, we have identified an initial set of elements necessary for transition—now this Learning Lab is inviting the participants in, to co-create them with us."
During the in-person meeting, participants collaborated on advancing their understanding of these evidence-based elements, while also building their own capacity for leadership in challenging and changing situations. "We're dealing with complex issues, so it's going to require complex solutions," said one Learning Lab member.
To find these complex solutions, the two-day meeting focused on methods and approaches that expand the usual public health toolbox. Along with familiar topics like data and communications, participants explored systems thinking, adaptive leadership, and tools based on storytelling, imagination, and movement—with the goal of finding new ways for responding to complex change processes and promoting health equity.
"This work is so important because in communities all over the country public health system leaders are struggling to assure that people in their jurisdictions get the direct services they need," said Betty Bekemeier, NWCPHP director and co-Principal Investigator for the Learning Lab. "At the same time, they are invested in providing the population-level prevention that public health agencies are particularly charged with. It's difficult to do both of these things and to do it such that no group or population falls through this cracks. This takes strategic thinking, leading change, new kinds of partnerships, external support, creative solutions, and much more. This Learning Lab is trying to facilitate some of this."
After the two-day meeting, participants returned to their communities with new ideas and new resolve. In the participants' own words, some key takeaways included: "having an open mind to new tools that take me out of my comfort zone," and the need for "being innovative, not just getting stuck in what we always do."
The Learning Lab will continue online throughout the year, as participants work together to design and test solutions to the challenges of improving population health in their communities.