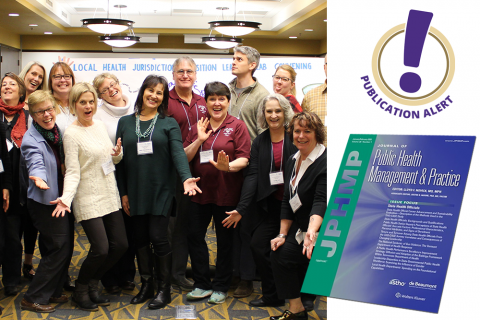 Faculty and scholars in the 2019 Learning Lab.
NWCPHP Director Betty Bekemeier and colleagues at the Public Health Institute (PHI) recently published an article in the Journal of Public Health Management and Practice that provides evidence for helping local health departments transition from direct clinical care to more population-level interventions.
This work reflects a larger shift among public health agencies to redefine their role as an individual care provider to one that promotes wellness for the whole community. For example, instead of administering flu vaccines, a public health agency would put more resources toward strategically addressing immunization rates throughout the county. This new way of operating is sometimes referred to as Public Health 3.0, and after many decades of emphasizing individual-focused work, health departments need more resources and technical support to make the shift.
"This is a new role for many small, local health departments and they often struggle with the transition," said Bekemeier. "To date there has been little evidence for how best to undertake such a large organizational shift. We're excited that our work will help guide these efforts."
The new paper, Time to Modernize: Local Public Health Transitions to Population-Level Interventions, summarizes the research team's findings from interviews with health department leaders around the country, urban and rural, who had successfully begun the transition in their agency.
The findings revealed eight key elements that support successful transitions. The critical themes relate to an organization's ability to develop strong partnerships, set goals, communicate clearly, and address staff skills. It is also important that agencies harness administrative and other data to guide decision-making, engage the community in the redesign process, build a sustainability plan to maintain the work, and think creatively about which population-level interventions to implement. Researchers also described health department staff, indicating that those taking on such a transition should be flexible, patient, and persistent, since the process takes longer than most would anticipate.
Although the paper was just published in late 2019, the researchers and training specialists at NWCPHP and PHI have been making use of the findings by embedding them in a jointly developed curriculum they delivered to five public health teams considering their own transitions. Dubbed the "learning lab," this yearlong, virtual learning community helped participants explore the elements of success and apply them to their own work during 2019. Now that the learning lab cohort has graduated, NWCPHP and PHI are also developing a toolkit, available in spring 2020, to help the next wave of health department leaders build replicable solutions for their own successful transitions.
"Public health leaders want to improve their systems and services and maximize their role in population health," said Bekemeier. "These findings will help them in that journey. In the words of one local public health leader we spoke to, it is 'time to modernize.'"
View the archived webinar about how Washington County, Oregon, featured in the article, approached their transition. In this one-hour recording, Marni Kuyl, Health and Human Services Director, explains how her large health department decided that closing their clinics and transitioning services for sexually transmitted infections, family planning, and immunizations to local health centers would better promote health equity.