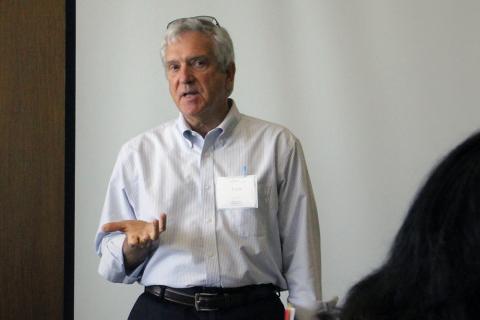 Public Health Management Certificate Coach Tom Eversole
A critical component of NWCPHP's Public Health Management Certificate, a yearlong program for building foundational management skills, is the integrated project scholars develop to tackle a pressing problem in their current jobs.
Working on a real-world problem gives scholars the chance to immediately apply the new ideas and skills they are learning—like understanding budgets and conducting evaluations—while also benefitting their agency.
The program's integrated projects also give scholars the unique opportunity to work one-on-one with a seasoned public health leader who coaches them through the ups and downs of putting these new skills directly into practice.
"That real-time application of classroom theory is critically important," said Tom Eversole, a long-time public health professional and new coach who began with the program last July. "There is a real acknowledgment at the Northwest Center that academic theory and practical application have to go hand-in-hand, because the two components are both focused on improving health outcomes for a population. That's what public health is all about."
Throughout his career in public health, Eversole has worked in a wide variety of roles, from delivering services at the program level to managing programs and employees. His management experience includes private nonprofit work like that at the American Psychological Association, as well as government agencies like Yamhill County, Oregon's Department of Health and Human Services. Eversole also taught public health courses at Oregon State University and was a psychology associate for HIV/AIDS patients with Johns Hopkins University of Medicine.
Experienced coaches like Eversole draw on their long careers in varied organizational and managerial structures to give scholars unique insights into areas like visioning, self-understanding, motivating and inspiring others, and aligning people, which are particularly important for mitigating staff burnout and driving organizational change.
"It's like going to a well and getting a drink of water when you are really thirsty," Eversole said. "Getting that dialogue, that feedback, can really provide that professional nourishment that folks need to continue to advance and to be proficient. People really appreciate that and it's hard to get."
While Eversole acknowledges his coaching role allows for him to dispense advice, he strongly believes in asking questions that lead professionals to find their own answers. "I want to respect their skills and abilities," he said. This approach allows scholars to continue being effective after the program ends and provides them with a road map for tackling new obstacles or modifying solutions that don't work as intended.
This approach also aligns with NWCPHP's efforts to bring diverse backgrounds, embodiments, and experiences to all its programs, including the Public Health Management Certificate.
"Diversity, equity, and inclusion increase the range of solutions that can be considered when facing public health challenges," Eversole noted. "If everyone looks at public health problems through their own lens and presumes to have the answers, they are probably leaving a lot of good answers, and perhaps better answers, unexplored."
Throughout the Public Health Management Certificate, scholars will be encouraged to adopt this line of inquiry as they think about how to build more equitable programs for improving community health. Other core program areas will emphasize building skills to manage people and teams, navigate change, and evaluate and improve programming—all essential for today's emerging managers.
Applications are now open for the next cohort of Public Health Management Certificate scholars through July 24, 2020, with early-bird rates available to those who apply by June 15.