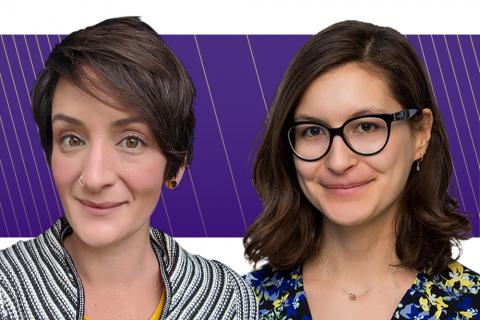 New NWCPHP staff Erica Ellis and Aishe Memetova.
Erica Ellis and Aishe Memetova recently joined the NWCPHP team. Erica is an instructional designer on the e-learning team and Aishe is an evaluation specialist on the evaluation team. 
Erica is an English-as-a-second-language instructor turned instructional designer. Prior to the COVID-19 pandemic, she was working in Puebla, Mexico training people with the U.S. Department of State to teach English (and trying to learn how to pronounce the name of the resident volcano, Popocatépetl).
Erica has been working with NWCPHP as a consultant and is excited to join the team on a more permanent basis. She had also been a consultant with FHI 360 developing learning curricula for program managers around the world so they could ensure standards and requirements from funders were being met.
Erica earned a master's in teaching from the University of Washington in 2018. More recently, she received a certificate in learning experience design from Oregon State University. She also has extensive service with nonprofits, such as United Way of King County, Youth Tutoring Program, and AmeriCorps where she worked as an events manager, volunteer manager, and program coordinator respectively.
Before coming to NWCPHP, Aishe was a policy research intern at the Nonprofit Association of Washington where she built a data dashboard of nonprofits in the state and co-authored an economic impact report. Her professional interests are nonprofit management and research on actions that lead to social change.
She earned a master's in public administration in 2020 with a focus on analysis and evaluation from the University of Washington where she was a Fulbright fellow. Before making the switch to public health, Aishe earned a law specialist degree from National University of Kyiv-Mohyla Academy in Kyiv, Ukraine in 2013 and a master's in law and business from Bucerius Law School in Hamburg, Germany in 2014. She interned for the Canadian Embassy in Berlin, Germany and did legal work for the Parliament of Ukraine in Kyiv, Ukraine. She speaks four languages — English, German, Russian, and Ukrainian.
Aishe and Erica talk more with us about themselves and their roles at NWCPHP.
What brought you to public health and NWCPHP?
Aishe: During my MPA program we were reading quite a lot of cases on interventions aimed to prevent poverty and to make our society more equitable. I have realized that access to health care plays a significant, if not underlying, role in how oppressed groups can shift themselves from poverty and get opportunities to build a fulfilling life. I am excited about the potential of public health to improve the well-being of people and about the ways to make public health funds distribution both just and efficient.
Erica: I began working with NWCPHP as an instructional design consultant back in December of 2020. During that time, I worked on the COVID-19 Information Navigator training and more recently on the Project Firstline Washington infection control training series. I thoroughly enjoyed working with the e-learning team and the opportunity to learn from our public health content experts, so when a permanent position opened up, I jumped at the opportunity.
What are you most looking forward to in your role at NWCPHP?
Aishe: I am looking forward to learning more about the public health field in the region served by NWCPHP, especially about the ways various public health actors interact with each other. Also, I am eager to contribute more directly to evaluation work that can support professional development opportunities for people in public health.
Erica: I continue to be impressed and inspired by the work NWCPHP does, so look forward to seeing what new projects come down the pipeline. Not having a public health background, I love learning about the work being done in this field, particularly at this point in history. I feel like I'm getting a mini public health education every time I design a training. It is also exciting to work with a team that doesn't shy away from exploring new approaches to learning and adult education, so I look forward to the chance to collaborate and innovate with such a creative team!
What are some of your interests and hobbies outside of the office?
Aishe: When the pandemic started, I found a refuge in baking for my family and friends. I think it is very satisfying to come to different results by using about the same inputs. Our family also takes classes of our native Crimean Tatar language to restore part of the identity that was largely destroyed during the Soviet era.
Erica: While I miss the warmer temperatures in Mexico, I'm happy to be back in the Pacific Northwest where I enjoy exploring the back roads of Thurston County on my bike, mushroom hunting with my 5-year-old, and fantasizing about future travels with my husband.