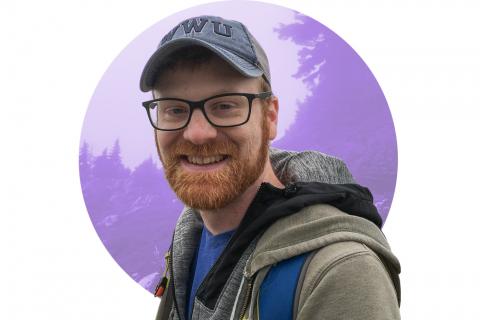 Nick Pinkham is the new instructional technologist for the Northwest Center for Public Health Practice. He will help support training development, including the monthly Hot Topics in Practice webinars.
Nick has 15 years of experience creating e-learning products as a freelance developer and designer for the automotive industry. He has helped build car dealership training for companies such as Mazda, Ford, Stellantis, Toyota, and Volkswagen. He also has experience developing games, simulations, and other interactive software.
At NWCPHP, Nick will help build new courses and modernize existing courses, as well as provide technical support for live training. Nick recently earned his bachelor of arts in design, along with a minor in computer science, from Western Washington University.
Nick talks more with us about himself and his new role at NWCPHP.
What brought you to public health, UW, and NWCPHP?
Like many people, the COVID-19 pandemic turned my life upside-down and showed me just how important public health is in our daily lives. Guidance from public health professionals helped me and my family stay as safe as possible over the last two years, and I am excited to help support many of those same professionals in my role at the NWCPHP.
What unique perspective and skills do you bring to NWCPHP?
My expertise in e-learning can help NWCPHP build on its extensive library of training courses. My experience with a wide variety of digital and interactive media can also support NWCPHP creating advanced, engaging training materials with new and emerging technology. And perhaps my time in the auto industry might be helpful if anyone at NWCPHP has a breakdown on the highway!
What are you most looking forward to in your new role?
I am excited to learn about how to better support the needs of public health professionals through NWCPHP! I am grateful to be working with such a great team and the opportunity to make a difference in public health education.
What are some of your interests and hobbies outside of the office?
I love to be in the mountains. I go hiking, snowshoeing, skiing, and camping as often as I can. I also enjoy photography and making landscape art for CGI and video games in my spare time.