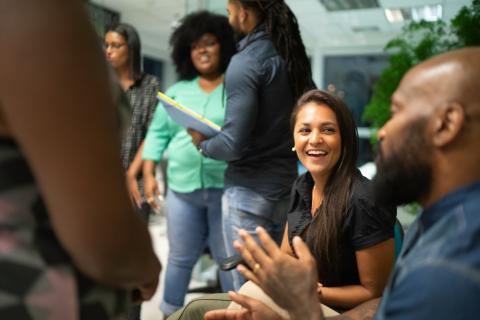 Updated January 18, 2023
The prolonged COVID-19 response has taken a toll on the public health workforce.
Responding to crisis after crisis has depleted teams and hastened turnover, especially at the leadership level. At the same time, new and existing employees have joined public health organizations around the country or taken on new roles through contact tracing and other response efforts.
In the wake of these staffing changes, public health leaders are looking for ways to build back their organizations and teams through more inclusive cultures that encourage people to bring their whole selves to work, retain staff, and better serve the communities where they work.
With this in mind, NWCPHP is excited to offer Leading with Insight, a learning opportunity to help public health professionals reflect on the past few years and plan for the workforce of the future by building more diverse, inclusive, and resilient teams after these trying times.
Many groups—like women, younger professionals, and people of color—are frequently underrepresented in public health leadership roles. To address this, scholars in this training will participate in facilitated discussions and learning activities that promote going deeper—beyond traditional diversity, equity, and inclusion (DEI) training material—by learning the brain science behind how to bring more perspectives and experiences into our team environments and develop great leaders.
"This content takes the best of what we know about brain science and helps us leverage that information to be better allies and truly apply DEI principles into organizational cultures," said Co-Instructor Darla Vidger. "And it will help you recognize the resources you already have within you to be a more intuitive leader."
Co-Instructor Bill Wells notes that the content is unlike traditional leadership training most people have seen, and others may agree that's exactly what's needed after such unique times.
"Leadership is tied to your ability to influence others. So regardless of where you are in your organization or team—be it CEO, supervisor, or individual contributor—you have opportunities to lead," said Bill. "This training will help you better understand that power and harness it to empower others."
Leading with Insight is designed with busy public health professionals in mind and is meant to be a bite-sized, highly interactive learning opportunity. Readings and other resources will be provided for those who want to go deeper into the topics covered, but there is no required homework or projects. Just join the weekly live sessions to learn and grow with your colleagues from around the region.
Learn more about the Leading with Insight series.
Questions? Contact Barb Rose.