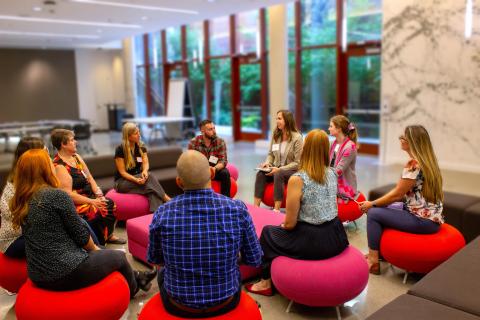 Scholars in discussion at an on-site session.
The Northwest Center for Public Health Practice began offering its Public Health Management Certificate (PHMC) over a decade ago.
Since the program's inception, nearly one hundred fifty individuals have developed and advanced their management skills by completing the program.
The COVID-19 pandemic created a high degree of staffing turnover in health departments around the country and brought waves of new people into the workforce. To better serve the training needs of these emerging leaders and managers, NWCPHP is expanding several components of the longstanding Public Health Management Certificate (PHMC) program.  
The newly developed PHMC packages are a set of flexible options gleaned from the program's core curriculum that public health organizations can pick and choose from to meet their staff development needs. 
"The original PHMC program has been very successful over the years in bringing new managers from around the region together to train as a group. After COVID, we felt it was also time to create more ways that agencies could bring this unique curriculum to their organization," said PHMC Director Janell Blackmer.
With the new PHMC packages, public health agencies can choose from a wide array of learning content and formats—from bringing the entire year-long program to their state to selecting an individual course or course component in areas like conflict negotiation or project management. Most of the content can be delivered virtually or in person, depending on the organizational needs and resources.
"We're trying to make the program more modular and customizable, and this is a big step in that direction," said program staff member Sarah Manchanda. "We've had great success offering similar packages to the State of Montana in the past, and we're hopeful that the flexible design of these new packages will empower more public health organizations and teams in other parts of the region to try it too."
"With this expansion, we're very excited to reach more public health workers and organizations across the Northwest, she added."
The PHMC packages are highly customizable and there are many options available. To learn more about the packages and how NWCPHP can help develop the management skills of your staff, contact Christine Ector or visit Public Health Management Packages.