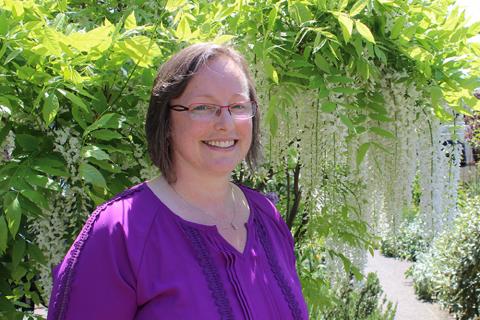 Janell Blackmer, NWCPHP Associate Director for Center Operations and program manager for the Public Health Management Certificate (PHMC), will teach the 2018 PHMC's financial management block.
For program managers at state and local health departments, financial management is about more than math and numbers. It's about building strong relationships, gathering information, and communicating effectively to make informed decisions, according to Janell Blackmer, Associate Director of Operations at NWCPHP. Blackmer, the long-time program manager for the Public Health Management Certificate (PHMC), returns this year to instruct the PHMC's financial management block. 
PHMC focuses on building skills to manage three core areas: information, finances, and people. These three are inseparable, according to Blackmer, which is one reason financial skills are integral to managers' responsibilities.
"It's really easy for someone who has a budget office or fiscal staff to focus only on managing people and information. But their decisions about staff hiring, professional development, or needs assessments all have underlying budgetary aspects to consider," said Blackmer. And having a comprehensive skill set is essential as managers navigate uncertain times and plan for the future.
To help managers build these skills, the PHMC curriculum divides its three core areas into six topical blocks. In addition to financial management, these blocks cover organizational systems; managing people and teams; program planning and evaluation; conflict resolution; and communication and social media. There are also opportunities to learn about policy briefs and build presentation skills.
The financial management block, which extends for seven weeks in the middle of the year-long program, is highly experiential. PHMC scholars compile foundational documents about the history and purpose of their programs, examine different ways managers interact with budget offices, and learn to interpret and apply financial information. They also practice identifying priorities at an agency, state, and federal level—a skill that helps them describe their programs' impact on those priorities, and make a case for investment.
Blackmer has managed budgets for NWCPHP's programs, faculty, and PIs since 2001. She co-developed a webinar series on financial management, from which the Planning for Financial Success online course was developed, and recently taught a course on grant writing for the Alaska Native Tribal Health Consortium. Having a lifelong passion for math, she had completed dual degrees in math and sociology and intended to become a high school math teacher, before finding work she loves at NWCPHP.
But despite her mathematical inclinations, Blackmer understands that many professionals see themselves as "not good at numbers" and feel anxious about their ability to interpret budgets. "I want to make it less intimidating," said Blackmer. "I want them to understand a budget is a tool. Even though it's not something they work on every day, it's a valuable resource to help guide their decisions."
Managers also need to know how to ask for help. "If managers see a report and don't understand it, they need to know to ask for the information in a different format," she explained. "Building a good relationship with your fiscal staff, and an understanding of what information you need, helps you approach budget staff and say, 'This is what I need to know. Can you give me that information in a way I can understand?'"
That's where communication and relationship skills are key. "At the end of the course block, I tell them, 'If all you got out of this is that you've developed a communicative relationship with your budget person, that's a win for you as a manager,'" said Blackmer. 
Visit the Public Health Management Certificate to learn more.