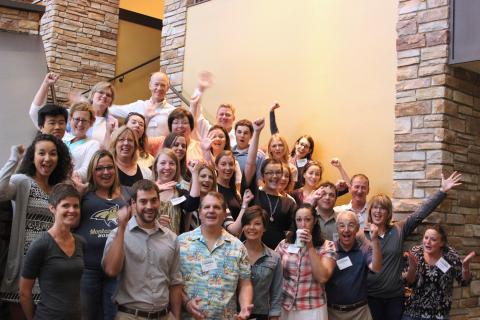 Management Certificate scholars from Montana kick off the yearlong program with an onsite session in Missoula.
Organizations have found unexpected benefits when they send groups of employees to NWCPHP's Public Health Management Certificate program.
NWCPHP's Public Health Management Certificate helps public health professionals advance their careers. In Montana, the program is helping state and local health departments build strong teams with a common culture, knowledge base, and set of experiences.
Three years ago, the state of Montana decided to invest in workforce development training, working with NWCPHP to tailor and bring the Public Health Management Certificate to professionals from different organizations around the state. Thirty scholars participated, and Montana's public health leadership were so pleased with the results that in the summer of 2015 they enrolled a second cohort to continue building management skills—and to strengthen a community and culture of excellence.
"It's been great to see staff who have completed the program move into management positions," said Denise Higgins, Chair of the Family and Community Health Bureau at the Montana Department of Public Health and Human Services (DPHHS). "The Management Certificate curriculum combines core public health program principles and management skills necessary to develop the next generation of public health leaders. The mentor groups offer a great opportunity for classmates to stay connected."
"I'm meeting people I never knew worked in the same building," said current scholar Linda Krantz, program manager for Chronic Disease Prevention & Health Promotion at DPHHS. With a large group of current and former Management Certificate scholars at DPHHS, the program provides opportunities for networking and building connections. "Now there's a face to talk to," she said, to coordinate work and break down silos between teams.
A critical mass of employees building their management skills can also help turn management theory into reality. "I had the concept before, but now I have the terminology," said Krantz, explaining how terms and concepts from the Management Certificate can help colleagues communicate better. "There are a lot of 'Oh, that's what you mean!' moments around the office. Intimidating concepts like evaluation and quality improvement begin to seem accessible with a shared understanding of what they entail," explained Krantz. With colleagues from the previous cohort, she added, "I'll come back from a Management Certificate session and say 'Do you remember this?' And they'll say, 'Oh yeah, I'd forgotten, let's implement that.'"
The Management Certificate can create common ground among employees in local health departments as well as at the state level. At the Cascade City-County Health Department, three previous Management Certificate scholars have all moved into leadership positions in the agency. The program has been a key part of succession planning and staff development, according to former scholar Trisha Gardner, Privacy Officer and Accreditation Coordinator. With an eye to filling future leadership positions, the department has sent a second group of scholars to this year's program. Even employees who do not attend the program themselves are affected, said Gardner, because concepts and projects are being integrated into the department's work. One scholar project, she said, "became the backbone of our Quality Improvement Plan that was submitted for accreditation and is being used by our agency" in daily work.
"The Management Certificate program focuses on the management skills that have consistently emerged as highest priority training needs on many assessments of the public health community," said Susan Allan, MD, JD, MPH, Faculty Director for the Public Health Management Certificate. "The value of this management training for an agency or organization is greatly increased when more than one person acquires these management skills. Their colleagues and staff will benefit from participating in or observing their improved management practices, business and financial processes, and strengthened communication skills. The graduates of this program can become, in effect, coaches for others and, with enough trained staff, can transform the organization in many ways."