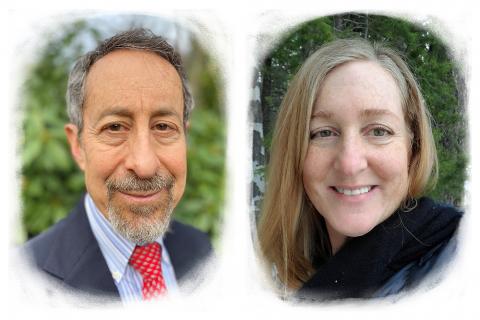 Gary Goldbaum, left, and Janna Bardi, right.
The Northwest Center for Public Health Practice (NWCPHP) is excited to introduce the new faculty mentors for the Northwest Public Health & Primary Care Leadership Institute.
The Leadership Institute is a collaborative offering from NWCPHP and the Northwest Regional Primary Care Association. We welcome mid-career professionals from public health and primary care fields, particularly emerging leaders working on health care transformation with rural and underserved communities.
Faculty mentors Janna Bardi and Gary Goldbaum will work one-on-one with scholars for their leadership projects and support scholars' work on individual personal development plans as leaders in their organizations or fields.
Janna served in several roles for the Washington State Department of Health over 27 years. Gary worked in federal, state, and local public health agencies, after three years in rural family practice.
They share more about how their unique perspectives and experience can support scholars in the Leadership Institute.
Janna Bardi, MPH
"During my career across several levels in Washington state's public health system, I have learned that it's important to share our successes and disappointments with others. This supports our individual growth and collegiality as well as tracking and learning from efforts as a community.
Being in public health and health care is systems work, and the right approach at one point in time may be unique to that context. We know that change and progress look different over time. Evaluation and quality improvement efforts can help us see how well interventions are affecting health outcomes so that we can ensure we are using the most appropriate approach for the times.
We work in increasingly dynamic environments, and I will be supporting scholars in honing their skills for visioning, collaboration, communication, and problem-solving as leaders in their fields."
Gary Goldbaum MD, MPH
"For most of my career, I worked in public health agencies at all levels of government in the U.S. (local, state, and federal). I have also practiced as a family doctor in both rural and urban communities. I will bring my insights from these positions to mentoring scholars.
I will also draw upon my own experience as a mentee at the U.S. Centers for Disease Control and Prevention, where my supervisor treated me as a peer in our work. He encouraged me to set stretch goals while following my passions, an invaluable strategy that I still follow.
Because of guidance from mentors like him and input from community partners in my career, I know how essential it is to provide public health and primary care leaders a space and sounding board for personal development and project advice."
Scholars met the new mentors earlier this month during the first of three live sessions taking place in 2021.