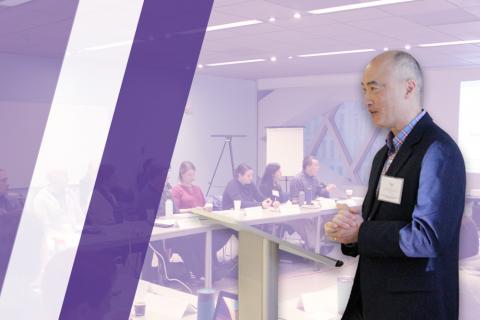 Leadership Institute Faculty Lead Tao Kwan-Gett addresses scholars.
Problem-based learning is an instructional approach that simulates the real-world turbulence that often accompanies emergencies and public health problems, driving the learning process.
Tao Sheng Kwan-Gett, faculty lead for the Northwest Public Health & Primary Care Leadership Institute, developed the problem-based learning curriculum for the Institute. He is also a clinical professor in the Department of Health Services within the School of Public Health and a primary care pediatrician at Virginia Mason Sand Point Pediatrics at University Village.
We talk more with Tao about his perspectives on problem-based learning in the Leadership Institute and its many benefits.
Why is problem-based learning important for learning new skills in public health practice?
In public health and primary care practice, and especially during the COVID-19 pandemic, we are constantly called upon to work with teams of people to solve messy problems, such as controlling unfamiliar pathogen outbreaks, making sense of incomplete data, and communicating across cultures and political beliefs. These problems don't have multiple choice answers, nor are their answers found by reading an article or watching a lecture. Instead, we bring people together with different experiences and backgrounds, talk about what we know and what we don't know, and share what we've learned with each other, so that as a team, we can come up with solutions that no single individual could have thought of on their own. That process is used in public health and primary care practice from the local to global level and is the essence of problem-based learning.
What is unique about problem-based learning and its use in the Leadership Institute?
Problem-based learning is unique in that each scholar figures out what they need to learn to help their team solve the problem. In traditional pedagogy, a teacher tells the students what the learning objectives are, transmits the knowledge to the students through lectures and readings, and asks the students to demonstrate their learning through assignments and tests. In the Leadership Institute, a faculty facilitator presents a public health problem in the form of a case, and the scholars work together to figure out what they need to learn to solve the case. The team develops the learning objectives and assigns them to each team member to research and share with the group. Then the team discusses and processes those new pieces of knowledge to come up with solutions.
What is the benefit of problem-based learning as opposed to project-based learning for scholars?
Project-based learning can be useful to help scholars learn as they complete a well-defined project that has been designed by their instructor. But in the real world, there is no instructor presenting neatly packaged projects. Instead, the real world just throws messy problems at us, and we have to figure out what we need to learn to solve them. By re-creating that process in the classroom, problem-based learning gives scholars an opportunity to practice skills they can apply in the real world.
How can problem-based learning help scholars reflect on health equity?
Pursuing health equity is a moral imperative in public health. In the Leadership Institute, faculty and scholars have a responsibility to bring health equity considerations into everything we do. Faculty have the responsibility to present and facilitate cases with a health equity lens, and scholars have the responsibility to come up with solutions that address health equity.
How can problem-based learning help scholars put the principles of health equity into practice in their organization?
One of the keys for organizations is to have champions within their organizations to promote health equity. To be an effective champion, a leader needs to practice adaptive leadership — the process of helping individuals and organizations adapt to a changing environment. Listening and empathy are key skills for this. To work effectively with community-based organizations, a person needs to be able to understand the perspectives of the community and how they feel about key issues. And to effectively lead a team or organization, a person needs to be able to listen and learn from others who have knowledge and experience they don't have. Problem-based learning can provide an environment to practice those skills so scholars can bring them to their work.
What real-world problems can scholars expect to tackle in the Leadership Institute?
In the Leadership Institute, the cases give scholars the opportunity to tackle problems that require cross-sector collaboration. Pursuing health equity requires addressing the social determinants of health — particularly inequities where people live, work, learn, and play. That's something public health and health care can't do on our own — we need to learn how to bring together people from different disciplines and perspectives. Our hope is that scholars will graduate from the Leadership Institute with the skills and motivation to work in partnership across sectors.
Applications for the 2021 Leadership Institute are open until December 1, 2020. Learn more and apply today.