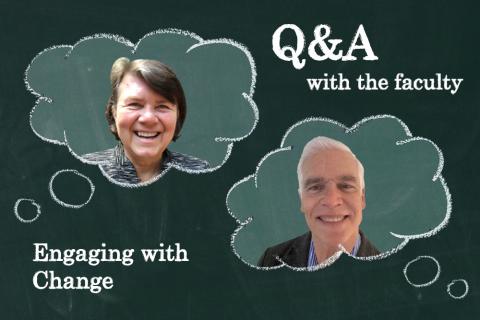 NWCPHP's new training, Engaging with Change, helps public health managers and leaders gain the skills and tools they need to navigate inevitable changes at their organization and within the health systems where they work.
Led by Mary Kay Chess, PhD, and Jim Reid, MPA, this training will help participants understand how to break down resistance to change and empower their teams and organizations to harness change as a powerful part of their work.
Mary Kay has more than 30 years of experience in health care leadership with multi-state urban and rural systems. She earned her doctorate in transformational learning and change. Jim's expertise is in organizational and leadership development, strategic planning, and dispute resolution. He earned a master's in public administration from the UW Daniel J. Evans School of Public Policy & Governance where he is now a senior lecturer.
Mary Kay and Jim talk more about their unique perspectives on change and what participants can take away from the new training.
Q: Why is engaging with and navigating change such a key part of management and leadership?
Mary Kay: Change is often thought of as a discrete project, a strategic planning event once a year. We may think of change in terms of a change in status, moving from a project manager to a COO. What if change is also an ongoing invitation to invent new approaches for thorny issues? What if change is co-creation to improve the lives of many? What if change engages us and, all our very diverse perspectives, to build the future proactively?
Jim: To lead people and manage organizations or programs effectively, a leader must be able to navigate change. It is not enough to react to it. You must be able to anticipate and proactively manage it. Change is now a constant in society and, therefore, in both large and small organizations. To ignore it would be irresponsible. Factoring it into planning and implementation allows organizations to not just survive, but thrive—to stay fresh, creative, and relevant.
Q: How can the Engaging with Change training help public health professionals prepare for and use change to help their team and community?
Mary Kay: This course can show you how to more successfully engage with the change happening around you and to you with effective tools, respectful interactions, and endless imagination. Public health professionals are continuing to face some of the most gnarly issues in our times where it is more obvious than ever that change is constant. The demands on the field often appear endless, and you might wonder how to effectively balance all the noisy demands in your work, homes, and communities. We want individuals and teams to be able to learn about and experience effective interventions to thoughtfully engage with those demands.
Jim: Together, we will look at the theory underlying change to bring context, meaning, and understanding to change management. We will share real-world examples of successful change management. During the training, we will also identify and discuss practical and creative strategies for reducing resistance to change and resolving conflicts that stem from it. The pandemic has demonstrated that public managers, particularly in public health, must be equipped with change management skills and strategies. People's lives and the social, economic, and cultural health of communities depend on it.
Q: What has made it easier for you to engage with change in your own professional life?
Mary Kay: American anthropologist Margaret Mead once said, "Never doubt that a committed group of thoughtful and committed citizens can change the world." Indeed, a team effort is the only thing that ever has created great change. Isn't it a relief to hear that we don't have to solve complex issues alone? In a group or team, we all contribute different skills. Challenges are viewed through different lenses, and possibilities emerge we could have missed individually. These challenges are worth sharing and solving, together.
Jim: The same attitudes and strategies that help successfully engage with change professionally can help on a personal level. For me, two things make it easier. One is recognizing that change is normal. It is part of life and, while at times unsettling, can lead to new experiences and opportunities, and personal and professional growth. Another thing that makes it easier for me to personally engage with change is having a variety of skills, tools, and strategies that make me more confident and comfortable with change.