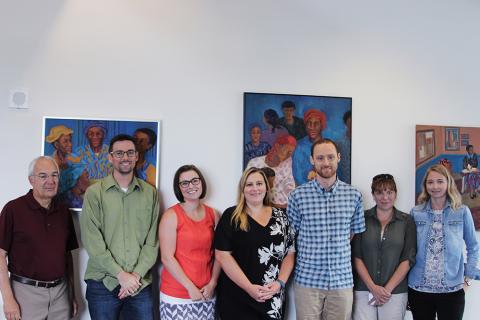 Bud Nicola with scholars from the 2017 PHMC cohort.
Ray (Bud) Nicola, MD, MHSA, FACPM, will again serve as coach in the 2018 Public Health Management Certificate program.
In the years since NWCPHP's Public Health Management Certificate program launched in 2011, longtime faculty member Ray (Bud) Nicola, MD, MHSA, FACPM, has become more convinced that to be an effective public health leader, you also have to be an effective manager.
"Our field of public health attracts folks who have widely different backgrounds," said Nicola. "A lot of people have clinical backgrounds, like doctors and nurses. Others may come from fields like sociology and anthropology. In public health, we need different kinds of people with different skills."
But while diverse public health professionals bring valuable attributes, they may not necessarily be equipped to be effective managers in core areas such as budgets, program plans, and assessments.
"People find themselves in an agency, a health department, or a non-profit, and moving up in the management structure of that organization without having basic skills of management," he said.
When the 2018 program commences in a few months, Nicola plans to again roll up his sleeves and work with motivated public health professionals who are eager to improve their skills in managing people, as well as money and information.
Nicola said that providing public health professionals with the tools to become better managers has always been at the heart of the program since its inception.
"Management skills is a topic area that is almost always requested," said Nicola, referring to the results of surveys conducted by NWCPHP asking public health professionals about their training needs.
The Management Certificate, a yearlong distance-learning program with one Seattle on-site, is designed to strengthen the management skills of public health managers in state, local, and tribal settings. By building these skills, these public health managers help to strengthen and expand the efficiency of their programs and organizations.
A key component of the Management Certificate is the integrated project. The integrated project involves a scholar choosing and working on a project that is relevant to the scholar's workplace.
"By having projects that really fit into the main part of their work, that really helps the scholars get support from their employers," said Nicola.
Over the years, Nicola said that scholars have voiced a strong preference for receiving training in certain topic areas. The Management Certificate has given more emphasis to those topic areas, which include conflict resolution, financial management, and conducting program evaluations.
Nicola, who retired from 21 years with the Centers for Disease Control and Prevention (CDC), and who previously directed both the Seattle King County Health Department and the Tacoma Pierce County Health Department in Washington State, said he cherishes his longtime role of Management Certificate coach.
As a coach, he helps facilitate learning, and helps the scholars stay on track with the program.
"I can serve in this role as someone who's not necessarily going to give them a grade, but as someone who can provide them with additional feedback about how well they're progressing, particularly in completing their project," said Nicola, who also previously served as Director of the Northwest Public Health Leadership Institute.
Nicola said he is as excited as ever to welcome and work with the new Management Certificate scholars.
"The program has gotten better every year, and the teams of people have really improved how they're thinking about the project, what they're doing, and how they're working together," he said. "Most of us on the faculty side frequently learn as much as the program participants."
Visit the Public Health Management Certificate to learn more.