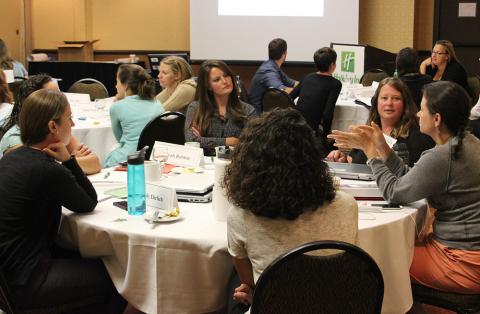 Scholars in NWCPHP's Public Health Management Certificate program receive benefits from their collaboration with a coach.
Kara Hughes credits a large part of her success as a scholar in the Public Health Management Certificate program at NWCPHP to her coach, Bud Nicola, MD, MHSA, FACPM.
"I can't say enough about my coach," said Hughes, Health Educator at the Montana Department of Public Health and Human Services.
While attending the Management Certificate program last year, she was coached by Nicola, a veteran public health professional, who has spent years serving at the Centers for Disease Control and Prevention, and as the Director of the Seattle-King County Department of Health. Hughes said Nicola helped keep her on track and inspired her to think creatively for solutions to complete her integrated project.
Scholars who participate in NWCPHP's Management Certificate program have the unique opportunity to work with seasoned coaches, who serve as their facilitator and mentor for the duration of the year-long program. Each scholar is assigned to a smaller learning group and assigned a coach. The role of the coach is to ensure that the scholars are making progress on their projects, and that they integrate their learning across the whole program and within their projects, as appropriate.
Coaches offer the scholars individualized suggestions and an experienced perspective, provide support and encouragement in times of successes and setbacks, and keep them on track with their work, said Management Certificate program Director Susan Allan, MD, JD, MPH. Allan herself will be coaching some of the scholars in the upcoming 2017–18 cohort.
Now in its seventh year, the program helps public health professionals further their careers by helping them develop practical management skills. A number of public health organizations have sent their employees to participate in the Management Certificate program to bolster efficiency and effectiveness and prepare for accreditation or succession planning. The program is geared towards current and emerging mid-level managers, although senior managers have also found the program valuable for expanding their skills.
Solid management skills are qualities that public health organizations seek among employees they are looking to promote to management positions.
"Most public health supervisors and managers were promoted to those positions because of their technical skills. Unfortunately, few health departments offer specific support for developing management skills, which leaves many supervisors and managers struggling to do as well as they would like to in their jobs. We developed this program to specifically strengthen management skills for those working in public health settings," said Allan.
The Management Certificate program provides scholars with the tools they need to bolster their competency in budgeting and financial management, communication, people management, collaboration and negotiation, and program planning and evaluation. Visit the Public Health Management Certificate to learn more.