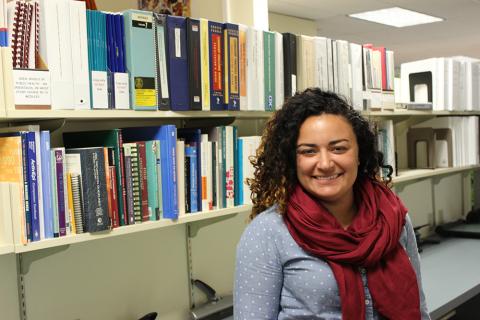 NWCPHP instructor Meagan Brown.
NWCPHP instructor and content expert, Meagan Brown, shares her skills for effective program planning with public health workers.
Successful programs do not just happen. No matter the good intentions, a program that is not well thought through could have a difficult time achieving its goals, or worse, be doomed to failure.
Meagan Brown, an instructor and content expert at NWCPHP, helps set up programs for success by helping public health workers plan and evaluate their impact.
"It's planning for success," she said. "The more people are prepared and have thought through the different aspects of their program, the greater likelihood it will achieve the intended goals."
Brown is set to teach NWCPHP's course on Program Planning and Evaluation in the Public Health Management Certificate in January. A few months ago, she taught the same course to public health workers in Billings, Montana.
Program planning need not be complicated.
"The way I describe it is taking what's already in your head, what you believe works for your community, and just laying it out, and thinking through everything that's involved," she said, adding that programs, big or small, could benefit from planning.
The course she teaches follows the CDC Framework for Program Evaluation. These steps include engaging stakeholders, those served or affected by the program, to find what interests them; identifying the problem; determining the feasible steps to take; and designing an evaluation to determine if the program worked.
Evaluation is a crucial part of any program plan. Today, funders routinely require grant applicants to include an evaluation plan or a report on the impact of the program, she said.
"Evaluation is critical because so many people are doing great things that have a lot of impact, but because they're not measuring it, they can't communicate what worked and why," she said. "Data, whether it's numbers or personal stories from beneficiaries, can make a big difference in demonstrating success to outside audiences."
Brown is in her third year pursuing a PhD in Health Services at the University of Washington School of Public Health. She previously earned her MPH in Health Behavior from the University of North Carolina at Chapel Hill, where her capstone project focused on developing a workplace health promotion program with low-wage workers at UNC.
Brown's interest in improving people's health, particularly for those who are marginalized, developed early on.
Her parents, Michael Brown and Christina Marciniak, are both physicians, and she grew up in a home that was "constantly discussing health care and access to health care." "I remember my mom tearing out New England Journal of Medicine articles for me to read in eight grade." Another strong influence was her now-late grandfather, Ed Marciniak, who was a well-known social justice advocate and public housing champion in Chicago, Illinois.
Working with public schools in low-income neighborhoods in Chicago after college, she observed the health disparities experienced by economically disadvantaged residents of the city.
Brown said she is excited for a career path that allows her to work with communities to improve the health of their residents. "I am incredibly grateful for this opportunity to teach and work with everyone at NWCPHP," she said.