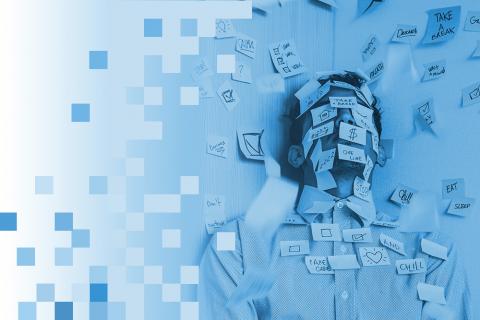 The Northwest Center for Public Health Practice is launching a new self-paced e-learning series that focuses on a persistent challenge for many of today's public health teams, especially in the wake of multiple, intersecting public health crises—building greater workforce resiliency.
From emergency and disaster response workers, to state and local practitioners and clinical teams, people working in public health are enduring the deep and system-wide impacts of chronic stress. Ongoing events like the COVID-19 pandemic, the effects of structural racism, and regional environmental disasters fueled by climate change have placed a significant burden on the public health workforce. As a result, many already overworked and under-staffed teams are struggling to deal with employee burnout and an overall lack of organizational preparedness to face these challenges.
The new course series, called Ready for Resilience, is meant to be a resource for individuals that are looking to understand the triggers of personal, team-wide, organizational, and community stress. Together with the Resiliency Resources Toolkit, the three-part series offers a variety of strategies that explore how public health organizations and their employees can counter the worst effects of stressors and practice intentional, research-backed acts of resilience.
Part 1, Stress and Resiliency, encourages learners to examine the relationship between stress and resilience, and consider how resources like the Mental Health Continuum tool can help organizations adapt to stressful events before they happen. Part 2, Supporting the Workforce, walks learners through the three phases of a major emergency, concluding with a department-wide disaster readiness scenario. In Part 3, Preparedness in Practice, learners will use the Ecological Model to understand the community-wide effects of stress and resilience, define a series of coping strategies, and apply them to their own preparedness practices.
"Throughout this series, there is a strong emphasis on reflective practice—understanding what has and hasn't worked for people who have dealt with a lot of stress through their work in public health," said Kevin deVoss, an Instructional Designer who helped develop the course.
"With help from experts in psychology and emergency and disaster preparedness research, and with a collection of stories from members of the public health workforce, we've put together scenarios, audio and video stories, and activities that we hope will give folks a chance to reflect on what resilience means to them and their teams."
The Resiliency Resources Toolkit, which is a companion to the series, provides a one-stop-shop for resiliency strategies that can be a helpful guide in this process as well.
This no-cost, self-paced series can be accessed by creating an account in PH LearnLink. Visit the Ready for Resilience course page to learn more.
Special thanks go to the following content experts for contributing to this project:
Randy Beaton, PhD, EMT
Wayne Corneil, ScD
Butch de Castro, PhD, MSN/MPH, RN, FAAN
Kira Mauseth, PhD
Suzanne Hawley, PhD, MPH