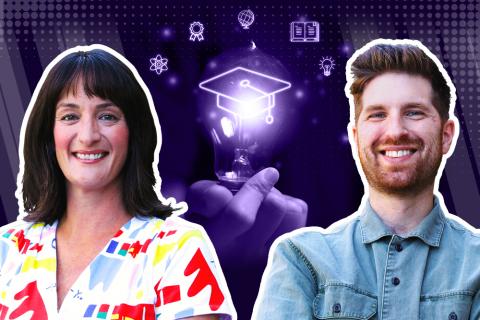 NWCPHP's Instuctional Designers, Erica and Kevin
Over the years, NWCPHP has employed several Instructional Designers as part of its stellar team.
While this can sound impressive, we've found that many people aren't entirely certain what Instructional Design (ID) is all about. To clear up the mystery, we sat down with NWCPHP's Instructional Designers, Erica Ellis and Kevin deVoss.
As Instructional Designers, these two ensure that NWCPHP's courses, trainings, and programs are engaging, relevant, and accessible to people from many different backgrounds. "As IDers, we live at the nexus of science, technology, and design," Kevin said. "We draw from each of those fields to ensure that the educational products we develop are relatable and applicable to our audiences."
They both acknowledged the confusion around their job titles and were able to provide some clarity. "Often ID gets conflated with E-learning, especially when we're working in an adult context," Kevin noted.
"A lot of people think we're graphic designers, online educators, or curriculum developers," Erica added. "But I think it gets closer to the truth of what we do to think of us as Learning Experience Designers. We apply adult learning theories to design learning experiences that are engaging, effective, and (gasp) maybe even a little fun. We both draw a lot more from pedagogy than technology."
Erica and Kevin both have long-standing interests in the intersection of language learning and teaching, technology, and engagement. They earned their Master's in Teaching ESOL (English for Speakers of Other Languages) together, and even teamed up to co-write their thesis on the impacts of mobile-assisted programs in adult language learning.
Before earning his Master's, Kevin worked in program management with a refugee resettlement agency. After graduation, he worked as an English instructor at local community colleges. After earning her Master's, Erica moved to Mexico for a fellowship with the U.S. Department of State. While there, she collaborated with university faculty to design bilingual courses and improve learning outcomes. Kevin transitioned to NWCPHP as an ID in 2019, and Erica joined him shortly after in 2020.
"We work to center our audience when we design courses, which means carefully considering their learning needs. For example, we know that for some of our learners, English is not their primary or preferred language," Erica pointed out. "With that in mind, we spend a lot of time and attention trying to ensure that we are designing materials in ways that will be approachable and understandable for them."
Over the last three years, Kevin and Erica have worked on many projects at NWCPHP. "What I love about my role is that I am often able to learn something completely new to me with each project I work on." Erica stated. "My professional background is in adult education, so as I'm designing, it's like a mini public health lesson. For example, when I worked on developing Project Firstline with the Washington State Department of Health, I took a deep dive into the world of germs, how they spread, and how to keep them out of the environment. It was fascinating! Then I got to take that information and turn it into an interactive, scenario-based training for our learners."
One of Kevin's first projects stood out as a favorite. "As a tribal member myself, it was pretty cool to help create our Collaborate with Tribes toolkit that could be used to help educate folks about tribal sovereignty from a public health perspective. It was also really fun to use storytelling together with a problem-based learning model to design the content for our Data for Rural Health Equity series," Kevin added. "We like to be playful and creative on the design side for all of the products we create, so there are always new opportunities for us to learn and experiment."
"I've heard a lot of people use the term 'heroes' to refer to the work Erica and I do," Kevin said playfully. "While we're too humble ever to call ourselves that, we're also not the types to argue. Personally, I think of us like Swiss Army Knives. We have a broad range of skills that allow us to contribute solutions to the many challenges we confront in training development."
The next time you're completing a course, doing an on-the-job simulation, or researching information in a job aid, remember the humble Instructional Designers who "heroically" put those resources together.