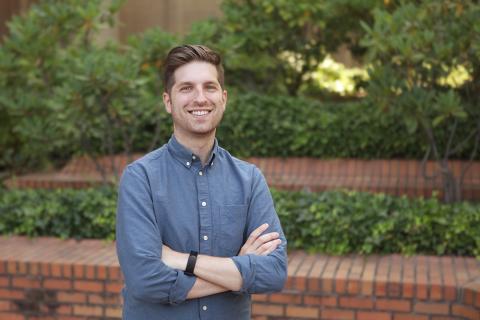 Kevin deVoss, NWCPHP instructional designer
Kevin deVoss recently joined the e-learning team with Northwest Center for Public Health Practice (NWCPHP) as the instructional designer.
Kevin will help support public health professionals through online learning and training activities. He has experience designing and building instructional learning technology such as webinars, online courses, and tutoring guides.
Before joining NWCPHP, Kevin worked for nearly a decade in various training, program management, and curriculum development roles. His career began in nonprofit refugee resettlement and later brought him to the higher education field as a college and university-level instructor for online and in-person classrooms.
Kevin talks more with us about his career, what brought him to NWCPHP, and what he looks forward to in his new role.
Q. What brought you to public health, the UW, and NWCPHP?
I have always been drawn to work that prioritizes some combination of equity, community involvement, and education. The NWCPHP mission is guided by a three-pronged focus on research, training, and evaluation, and this mission is deeply connected to the broader human development goals that underlie public health. Working at NWCPHP provides me an incredible opportunity to fully harness my past experience in social services and education while also stepping into something quite new and exciting.
The UW School of Public Health is a globally-renowned center of research and study. Everyone at NWCPHP is committed to continuing that standard of excellence. The folks here are incredibly passionate about bringing cutting-edge research into our regional communities of practice and doing so in really innovative ways, such as deploying different learning technologies to reach practitioners.
Q. What unique perspective and skills do you bring to NWCPHP?
Over the past year, I have been collaborating with an interdisciplinary group of scholars in an emerging field of research called critical instructional design. This research attempts to articulate a theory of digital learning pedagogy that holds the educational technology industry accountable for the human needs of learners. This field is of significant interest for folks in learning professional roles, particularly those engaged in equity-centered work.
As an instructional designer, my main job is to recognize that every adult is a lifelong learner and that each individual has different learning needs. My goal is to try to meet those individual needs as effectively as possible using sound adult learning theories and making the most out of a variety of different media. For instance, a big part of professional development for public health practitioners involves staying on top of research and best practices. These days, practitioners can leverage a lot of online learning content like screencasts, webinars, and asynchronous modules to be effective at their jobs. I try to develop those kinds of products from the learner's perspective, so that they provide engaging, meaningful, and practical learning opportunities for public health professionals.
Q. What are you most looking forward to in your new position?
When looking at the center's scope of work, I am amazed by the ambition and innovation that folks are bringing to their projects. For instance, in my particular role, the e-learning team has already encouraged me to experiment with different ideas for learning experience designs. This team brings a lot of curiosity to their work in addition to being very caring, which has made for a very welcoming onboarding experience.
Q. What are your interests and hobbies outside of the office?
My hobbies include illustration and cooking (as well as eating) new dishes. I'm a big fan of films that use cool practical effects, and John Carpenter is my all-time favorite director! Some of his films include "The Thing," "Halloween," and "Big Trouble in Little China."
I speak Norwegian and have a deep interest in traditional Scandinavian folklore, as well as the literary, film, and food cultures of the Scandinavian countries. I especially enjoy making traditional Norwegian desserts like gløgg, vafler, and eplekake.