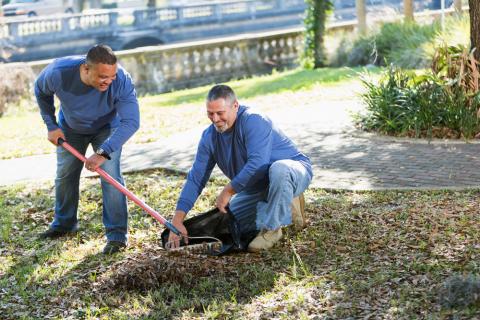 Each year, the Northwest Public Health Training Center (NWPHTC) funds student public health projects. Tai Crawford, a recipient of funding in 2015, describes her sun safety intervention project with the Southeastern Idaho Public Health Department.
Many companies implement safety policies and trainings in order to keep their employees safe. They often go to great lengths to provide their workforce with important protective gear such as safety glasses, hard hats, and work boots. But with year-round outdoor work, chronic sun exposure is an easily forgotten health risk for employees and employers. Sun safety-specific policies are often inconsistent among employers with a large outdoor workforce.
To address this issue, Tai Crawford, a recent graduate of the Idaho State University Master of Public Health program, focused her field placement project on the importance of employers supplying sun safety products to their employees. Tai worked with the Southeastern Idaho Public Health Department to design and implement an intervention project in cooperation with the City of Pocatello Parks and Recreation Department. Her goal was to show that providing sunscreen would lead to an increase in usage.
For her project, Tai collaborated with the Southeastern Idaho Public Health Department, the Idaho State University Master of Public Health program, Bingham Memorial Hospital, and Shaver Pharmacy. She provided 47 outdoor workers with information on risks and preventative measures for developing skin cancer, as well as a list of free local clinics that provide skin cancer screenings. The participants were also supplied with sunscreen in convenient two-ounce bottles for use throughout the summer.
In order to determine if a behavior change occurred, Tai conducted a baseline survey before the workers were presented with the information and an exit interview at the end of the summer. During the intervention, participants were asked to mark the activities they took part in during their workdays on a supplied spreadsheet. Activities included applying sunscreen initially, reapplying it, and wearing a wide-brimmed hat, sunglasses, or long-sleeved clothing. The idea was to make daily activity tracking as easy as possible to increase participation.
Tai's work showed that providing sunscreen did increase use, but it also indicated that sunscreen may be one of the more difficult sun safety products to incorporate into an employee's work schedule. Remembering to apply and reapply every two hours made sunscreen less desirable than other preventative methods. While having sunscreen as an available resource is not discouraged, encouraging companies to provide long-sleeved clothing over short-sleeved could make a difference in sun exposure.
"This experience allowed me to apply lessons from the classroom into a real-world situation resulting in a positive outcome," said Tai. "Though our findings were not as favorable as we would have liked them to be, the process taught me the importance of critical thinking, making it possible to recommend an alternative solution, which the city has implemented. Part-time employees are now provided with long-sleeved t-shirts, and many full-time employees are choosing to use their clothing allowance to purchase long sleeved t-shirts as well."
Not only did Tai's project identify the importance of making companies aware of employee risk and protective factors from chronic sun exposure, but it also was a great opportunity for different organizations to come together to work on a solution.
"Field placements such as the one Tai worked on are invaluable, as they help to strengthen connections between local public health organizations and institutions of higher education," said Maggie Mann, Tai's mentor, and District Director at Southeastern Idaho Public Health. "They provide hands-on experiences for students, helping them to apply theory and strategy learned in the classroom. We are extremely appreciative to be a part of this program."
Visit the Northwest Public Health Training Center for more information about student funding. 
The Northwest Public Health Training Center is housed within the Northwest Center for Public Health Practice at the University of Washington School of Public Health. It is one of ten regional Public Health Training Centers funded by the Health Resources and Services Administration.