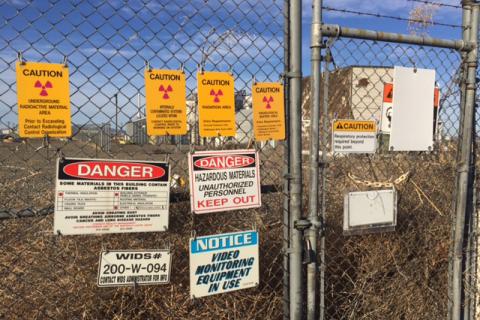 Each year, the Northwest Public Health Training Center (NWPHTC) funds student public health projects. Emily Turk, a recipient of funding in 2015, describes her experience documenting the health effects of toxic vapor exposure on Hanford tank workers.
Sitting across from "Bob" and his wife in their living room in Eastern Washington, I listened as he told story after story of being exposed to toxic chemical vapors while working at the Hanford Site, a former nuclear weapons production facility built in 1943 as part of the Manhattan Project. The Hanford Site, which is owned by the U.S. Department of Energy (DOE) and operated by private contractors, houses an estimated 56 million gallons of dead radioactive and chemical waste in 177 underground tanks.
Since cleanup of the most hazardous waste site in the Western Hemisphere began in the early nineties, Bob has repeatedly been exposed to toxic vapors while monitoring chemical dose rate levels and collecting air samples from the underground tanks storing the byproducts of plutonium production. Exposure to toxic vapors result in symptoms, both immediate and nasty in their effect; workers experience everything from nosebleeds to burning skin, difficulty breathing to dizziness, and even increased heart rate. And the long-term effects of exposure are sobering. "Bob" has been diagnosed with chronic beryllium disease, chemical pneumonitis, reactive airways disease, and cirrhosis of the liver—all related to inhaling fumes from the byproducts of producing the plutonium required to build the atomic bomb dropped by the United States on Nagasaki, Japan in WWII. Production of plutonium at the site continued through the Cold War, finally ending in 1987.
According to DOE Problem Evaluation Reporting System documents, since March 2014, at least 80 Hanford tank workers were medically checked after exposure to toxic vapors—a number which underestimates the true number exposed, as many do not report exposures to their supervisors and seek medical attention onsite. This reveals a slight increase in exposures requiring medical attention from an average of about 60 per year since 1992. In the month of June 2015 alone, 13 workers were exposed to tank vapors. Hanford workers who become ill have to navigate complex systems of health and insurance entities, while already facing limited access to health resources due to living in a rural area of Washington State. For those who become too sick to work, lost insurance becomes another barrier to receiving healthcare.
Growing up downwind from Hanford, I became interested in the public health risks associated with working at—and living around—Hanford. When it came time to search for a capstone project, a requirement of my master of public health program, I realized I wanted to focus my research on the Hanford tank workers. Though the topic has been covered in newspaper and TV media, little academic research or public health reporting has focused on the Hanford workers or the circuitous system they must navigate to receive health care and compensation. By collecting case studies of Hanford workers and their exposure experiences, I hope to fill an important need for qualitative research. This research could be used to inform advocacy and policy work for improved public health and safety in and around the Hanford Site.
"There are dozens of workers who have suffered serious, even life-threatening health effects due to exposure to these toxic vapors, but Hanford has so far failed to prevent ongoing exposures. This work is a necessary first step to bring academic discipline to chronicling the experience of these workers," said Liz Mattson, Director of Education and Outreach at Hanford Challenge, who is my client and partner for the project. Hanford Challenge is a local advocacy group who, along with local unions and the state of Washington, is working to protect Hanford workers.
Since the summer of 2015, I've been conducting in-person interviews with workers to generate text for qualitative analysis. Time and distance have been my biggest challenges, since I am conducting my interviews in-person in the Tri-Cities Area of Richland, Kennewick, and Pasco, which is over 200 miles away. The fieldwork grant I received from the Northwest Public Health Training Center has helped with travel costs, and I don't know how I would have been able to do this important work without such assistance. I have had an enormous amount of support from my faculty advising team of Amy Hagopian, PhD (Health Services, Global Health); Steven Gilbert, PhD, DABT (Environmental and Occupational Health Sciences); and Holly Barker, PhD (Anthropology).
In the next few months, I will be finalizing my report, which presents my analyzed qualitative data from the Hanford worker interviews and from conversations with providers who treat these workers, as well as recommendations for improving the complicated systems that workers must navigate to receive care and compensation. This research will be submitted to a peer-reviewed public health journal in the summer of 2016. In addition to my UW capstone presentation, scheduled for June 8, 2016, we hope to plan a public event that will include a facilitated discussion with an audience and panel members, following a presentation of my work.
Back in Bob's house, as we wrapped up our interview and I was preparing to leave, he said something that sums up the reason this work is so important to me: "Something needs to be done...or they're gonna keep hurtin' people." The urgency Bob and the other workers have expressed continues to encourage me to complete this work, while feeling grateful to be part of a graduate program that supports problem-based learning and public health practice.
Visit the Northwest Public Health Training Center for more information about student funding. 
The Northwest Public Health Training Center is housed within the Northwest Center for Public Health Practice at the University of Washington School of Public Health. It is one of ten regional Public Health Training Centers funded by the Health Resources and Services Administration.