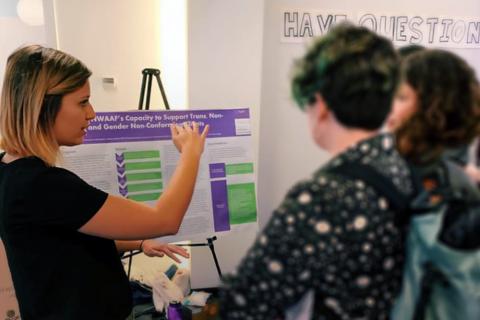 MPH student Courtney Roark describes a project with the Northwest Abortion Access Fund.
Each year, the Northwest Public Health Training Center funds students completing public health projects in Alaska, Oregon, Idaho, and Washington. Courtney Roark, a recipient of funding during the 2018–19 school year, describes their project with the Northwest Abortion Access Fund.
More and more research affirms the importance of medical care that respects patient needs and identities, especially for people from marginalized communities. In the case of reproductive health advocacy and care, they have historically focused on the needs of cisgender women, individuals whose gender identity matches their sex assigned at birth. This approach leaves trans, non-binary, and gender non-conforming (TGNC) people with significant barriers to the care they need to live a healthy life.
In addition to the stigmatization surrounding reproductive health, especially abortion, TGNC people face discrimination, homophobia, and transphobia. Even when they are able to access care, it is often inadequate and potentially harmful.
Recognizing the inadequate support and lack of affirming care for TGNC people, the Northwest Abortion Access Fund (NWAAF), a volunteer-run organization that provides financial and travel support for people seeking abortion in the Northwest, partnered with University of Washington student Courtney Roark to help improve their policies and procedures. Courtney, a 2019 graduate of the Community-Oriented Public Health Practice program, received funding during their final year of the program to support the work with NWAAF through NWCPHP's Northwest Public Health Training Center.
"From the very beginning of the project, I knew it was important to center community and take a strengths-based approach," said Courtney.
Courtney designed a mixed-methods study that emphasized community participation and reproductive justice and centered the voices of TGNC individuals and health care providers who work closely with the community. This approach required an iterative and adaptive process that included soliciting feedback and direction from community experts throughout the project.
Based on the interviews, Courtney suggested improvements for NWAAF services that fit into five broad categories. Key recommendations included explicitly communicating the importance of providing gender-affirming support, intentionally recruiting TGNC individuals to participate in all levels of the organization, improving volunteer training, and updating client intake forms and processes to be more gender-affirming.
In reflecting on the project's limitations, Courtney acknowledges that not enough people of color were engaged in the data collection and analysis. Courtney plans to continue learning about how they, as a white public health professional, can engage with communities of color and bring that to their future work.
Since completing their project, Courtney has presented findings at the University of Washington's 1st Annual Interprofessional LGBTQ+ Health Conference, the 2019 US Professional Association for Transgender Health Conference, and to NWAAF's board of directors, who are working on next steps.
"My greatest hope is that, as a result of this project, NWAAF will become stronger organizationally and TGNC folk who interact with them and the wider Pacific Northwest region will benefit from that strength," Courtney said.
Visit the Northwest Public Health Training Center for more information about student funding. 
The Northwest Public Health Training Center is housed within the Northwest Center for Public Health Practice at the University of Washington School of Public Health. It is one of ten regional Public Health Training Centers funded by the Health Resources and Services Administration.