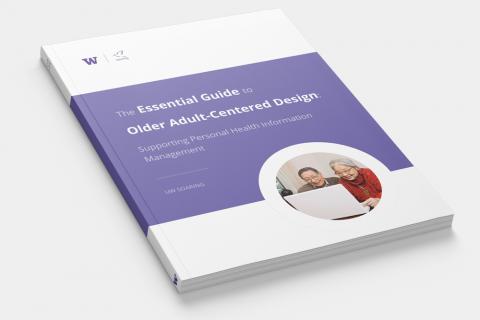 Managing health information can be particularly difficult for older adults, who often have a number of health conditions requiring multiple provider visits with different treatment plans and medications.
The "Studying Older Adults and Researching Information Needs and Goals" (SOARING) research team set out to better understand the personal health information management needs of older adults and their caregiving networks so organizations can build systems that meet those desires.
With the Guide to Older Adult-Centered Design, health organizations can take a holistic approach to supporting older adults, as well as their family members, friends, and providers. The guide is a culminating project of a multi-year study that specifically assists designers and developers in creating health information technology systems that better meet the needs of older adults and their caregivers.
"If you are going to have an effective health information system, it needs to somehow include that network of people," said Principal Investigator Anne Turner, who is a professor in the School of Public Health's Department of Health Services and the School of Medicine's Department of Biomedical Informatics and Medical Education.
While researchers looked at ways to share information across a caregiving network in a safe and accurate way, they also had to keep in mind older adults' desires. "Much like everyone else, older adults want privacy and autonomy when it comes to their personal health information," Turner said. Older adults are interested in sharing some health information with family and friends, but want a say in who has access to different aspects of their personal health information and the ability to control decisions about their health.
"How do you connect an older adult's network in a way that preserves a person's autonomy while allowing people access to the information they need to help take care of the individual?" Turner asked. That was the key issue researchers sought to help answer.
To do this, the SOARING team created personas of multiple older adults and their complex caregiving network. Personas are often used in what is called human-centered design. "This usually involves a persona for one individual to give a picture to a designer on what this person is like," Turner said. "Because of the complexity of older adults, their network, and health information management, one persona was not enough."
The team developed personas for six different older adults. Each older adult persona has connected personas for primary care providers, family members, and friends who are involved in their care. Doctoral student Dawn Sakaguchi-Tang helped create these personas and served as the director of content for the guide. Sakaguchi-Tang is a student in the Department of Human Centered Design and Engineering in the School of Engineering.
In creating the guide, researchers received feedback from experts in the field of health informatics, nursing, medicine, biostatistics, and human computer interaction. They also sought feedback from older adults, user experience designers, and students.
Along with the personas, Sakaguchi-Tang and the research team created guidelines and scenarios to help in the creation of health information technology. These resources are also available in the guide.
"The work we have done will help communicate the diversity among older adults that should be considered when designing health information technologies," said Sakaguchi-Tang. "Situational differences like living arrangements, health, and cognitive status can influence an older adult's goals and needs as well as how health information is managed by or for them."
Visit SOARING to download the guide and view more publications from the research team.