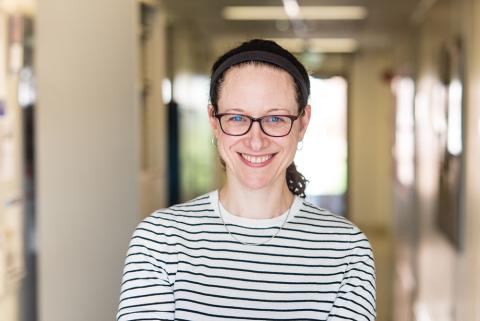 NWCPHP welcomed Janet Baseman, PhD, MPH, into her new role as Acting Associate Dean for Practice at the annual Regional Network Steering Committee meeting's networking reception.
NWCPHP faculty member Janet Baseman, PhD, MPH, has been named Acting Associate Dean for Public Health Practice for the University of Washington's School of Public Health. In this new role, she will advance the School's vision for bringing the academic and practice communities together by building strong academic and practice-based partnerships, expanding student and faculty opportunities with the practice community, and increasing evidence-based research. The position is expected to become permanent under the new Dean of the School.
"As a doctoral student, it was hard to find the right people or experiences that could help me connect my research interests to the practice community," said Baseman. "When I joined the SPH faculty, it became my mission to conduct practice-based research, and create new coursework and field experiences for students so that they could see the connection between their work and potential career opportunities in practice. This new role will allow me to expand on these efforts, and create a roadmap for engagement between students, faculty, and practitioners."
NWCPHP recently welcomed Baseman into her new role during a networking reception with partners from around the Northwest region and members of the School. The reception was held in conjunction with NWCPHP's annual Regional Network Steering Committee meeting on April 24.
"Filling this role shows the School's commitment towards linking academic studies and skills with the needs of practitioners," said NWCPHP Director Betty Bekemeier, PhD, MPH, RN. "Generating research evidence that's meaningful to the practice community and developing students with the right skill-set to address public health workforce needs are critical components to improving public health prevention systems and services. Janet is well-suited to lead these kinds of efforts."
Baseman, an Associate Professor in the Department of Epidemiology and an Adjunct Associate Professor in the Department of Health Services at the School, has extensive experience working on projects that have made an impact on the practice community. She has also worked as an epidemiologist at the Kitsap Public Health District.
Through the years, she was involved in NWCPHP's emergency preparedness work as part of its Northwest Preparedness and Emergency Response Research Center (PERRC). Baseman was the Principal Investigator of the Rapid Emergency Alerting Communications Health (REACH) project funded through PERRC, which compared the effectiveness of different communications platforms for sending time-sensitive public health alerts to different types of health care providers in urban and rural settings.
Building off of NWCPHP's multi-year long efforts through PERRC and the Northwest Preparedness Emergency Response Learning Centers (PERLC), Baseman also led the PERRCoLATE project, which evaluated the implementation of evidence-based tools and trainings to address communication challenges that emerge during all phases of a public health emergency. Baseman's team inventoried and analyzed existing communication tools and products developed over five years by the PERRCs and PERLCs, and completed an observational study of facilitators and barriers to implementation success. They shared their results with the practice community during a virtual synthesis symposium, and presented the study findings to the CDC Office of Public Health Preparedness and Response Board of Scientific Counselors meeting last October.
"I am looking forward to building these bridges between the practice and academic communities. We are all working towards the same goals, and the more we work together to improve the health of our communities, the closer we will be to achieving them," said Baseman.