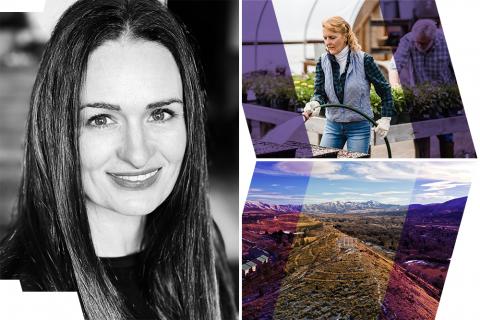 Student stipend recipient Andrea Hill.
After spending years teaching people how to cook more nutritiously, Andrea Hill turned her attention to other issues that impact public health. She was working toward her MPH at Boise State University (BSU), and decided to conduct a community assessment to measure the challenges involved when aging in place in rural communities.
"I wanted to put my education and energy toward understanding how people in rural Idaho age and what barriers they face," Andrea explained. "I hoped my results would raise awareness of the importance of services for older people and promote healthy environments for all."
Andrea received a stipend from the Northwest Center for Public Health Practice, which provides financial support for students working on a variety of public health projects across the Pacific Northwest.
Andrea's work focused on the communities surrounding Cascade, Idaho, located 80 miles north of Boise. She employed multiple data collection methods, including surveys with residents, interviews with key informants, and focus group discussions with seniors. Due to the pandemic and the community's location, most of her research was conducted remotely.
Her findings were revealing. Nearly 100% of residents in Cascade wanted to age in place in the comforts of their existing homes. However, many lacked the resources necessary to achieve that outcome.
For some residents, the challenges were financial: they struggled to pay for home health services and often lacked sufficient funds to make modifications to their existing homes. Others simply couldn't find available services or didn't know where to look for support.
Her findings showed that accessibility to home health services was often limited by a lack of providers. Further interviews attributed this gap to the high cost of housing in the area, as well as low wages for the relevant workforce. Those who would assist older adults simply couldn't afford to live in the area.
"Our research revealed that communication and collaboration were the main reasons that there were gaps in services," Andrea said. "Many older adults didn't know where to look for help, and it's difficult to make informed decisions when you don't have access to essential information."
"Our results showed the need to create and publicize a list of resources for residents who want to age in place. We also found a need to provide affordable housing and better wages to the workforce who serves those adults. Together, these steps could improve access for seniors in these communities."
Andrea also identified the need to help older adults and community groups access financial resources. She explored grants and related programs to help residents modify their homes and pay for maintenance and home care services.
"Working on this project has made me a more knowledgeable and successful public health practitioner," Andrea explained. "Conducting this research has expanded my understanding of rural health disparities related to aging, and I've become a better collaborator through the process."
Hill graduated from Boise State University with her MPH in 2022. Currently, she is both an adjunct instructor and a project director at BSU for the School of Public and Population Health.
The Northwest Center for Public Health Practice provides ongoing funding for students involved in various public health projects. Learn more about past projects or how to apply for a stipend.
The Northwest Center for Public Health Practice at the University of Washington School of Public Health is one of ten regional Public Health Training Centers funded by the Health Resources and Services Administration.