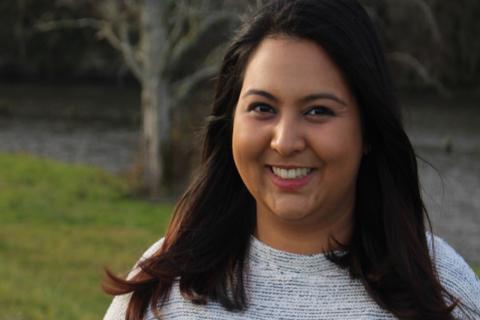 Student funding recipient Yachana Bhakta.
While firearm injuries are a significant public health issue in Oregon, there has been limited availability of nonfatal firearm injury data for community partners working to prevent these incidents.
To help change this, Yachana Bhakta and a team at the Oregon Health & Science University - Portland State University (OHSU-PSU) School of Public Health were contracted by the Oregon Health Authority to collaborate with community partners to identify and address data gaps that could help support new or improved prevention initiatives.
Each year, the Northwest Center for Public Health Practice funds student involvement in projects throughout Alaska, Oregon, Idaho, and Washington state. Bhakta was a 2020–21 school year recipient earning her master's in public health at the OHSU-PSU School of Public Health in Portland.
Bhakta is a first-generation American and the first in her family to pursue higher education. She set her sights on a public health career after witnessing inequities and disparities in health care while growing up in rural Oregon, researching opioid addiction in Seattle, and working in emergency services in Spokane, Washington.
"My experiences have allowed me to cross paths with individuals who have been challenged to overcome the hurdles of poverty, low education levels, and social stigma to access health care," she said. "My dedication to public health stems from wanting to make a difference in the quality of life and health of the people who I have cared for and the people I have worked alongside in emergency services."
When it came to a project about facing the facts on firearm injuries, Bhakta was able to use her epidemiology skills, while focusing on her research interest areas of injury prevention and mental and behavioral health. Bhakta and the study team at OHSU-PSU collaborated with the Oregon Health Authority's Injury and Violence Prevention Program, along with community partners who work in firearm injury prevention.
The study team interviewed community partners to identify their data needs and interests and developed a data dissemination plan that outlined strategies for community engagement, outreach, evaluation, and data sharing with key community members and policymakers. Community partners completed questionnaires and shared their perspectives on firearm injury data and dissemination, which informed the project's priorities and data analysis.
The study team also used real-time data trends for nonfatal firearm injuries to fill gaps in needed data and better understand the burden of firearm injuries, which could help inform and improve prevention initiatives. For this real-time data, Bhakta helped analyze nonfatal firearm injury data from Oregon ESSENCE (Electronic Surveillance System for the Early Notification of Community-Based Epidemics) according to community partner needs.
Ultimately, the project and its findings could help communities identify trends or groups in need of more support, as well as secure funding for future prevention programs.
Learn more about the Northwest Center for Public Health Practice's student funding for the current academic year.