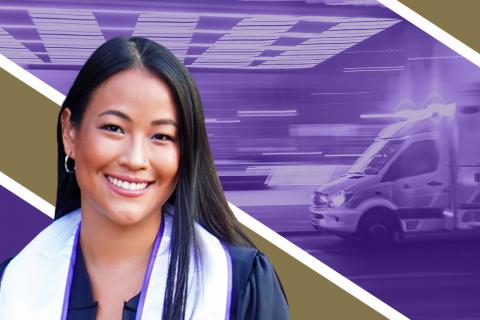 Student stipend recipient Amanda Shi.
After Amanda Shi found out that anywhere from 13 to 27 percent of emergency department visits are avoidable, she set out to help the Seattle Fire Department change this through policy improvements.
Each year, the Northwest Center for Public Health Practice funds student projects or involvement in projects like Shi's in Alaska, Oregon, Idaho, and Washington state. Shi is a past recipient who was awarded while earning her master's in public health and her master's in public administration at the University of Washington.
"As someone who would like to make policy in the future, I think it is extremely important that I am able to empathize and understand the ongoing public health efforts in the field," Shi said. "I know it is important to understand the inner workings of a governmental agency and what steps are necessary to enact policy change that will help improve public health."
During her project, Shi partnered with the Seattle Fire Department's Health One, a mobile unit created in 2019 to respond to individuals in their moment of need and help them navigate the situation — whether it involves medical care, mental health care, shelter, or other social services.
Health One is a model that shows promise for non-police intervention, using fire fighters and case managers, especially for people experiencing substance use or mental health emergencies. The goal of Shi's partnership was to better understand how the Health One model serves the community and what improvements can be made to better achieve its mission.
"Mobile crisis response has been a huge area of interest for me," Shi said. "After earning my master's, I want to continue working in the area of mental and behavioral health. This Health One collaboration gave me a chance to work in the field and assess needs in my local community."
Shi created two products for Health One: a policy brief based on two years of case notes, and a guide for interviews with members of the crew. She found a major shortage of resources for social services, while there are extremely complex patient needs, often with multiple dimensions including mental health, substance use, chronic conditions, and lack of stable housing.
Shi's policy brief outlined recommendations on improving the resources and other ways to support clients. These recommendations include adding consulting psychiatry and nursing telehealth services, creating partnerships with local substance use, mental health, and medical facilities that have overlapping clients, and ensuring that items like clothing and food are always in Health One vehicles.
Health One plans to integrate Shi's recommendations and suggested partnerships when and as possible. These recommendations could ultimately help reduce and prevent unnecessary 9-1-1 calls by connecting people to the resources and services they need at the right time.
Learn more about the Northwest Center for Public Health Practice's student funding for the current academic year.
The Northwest Center for Public Health Practice at the University of Washington School of Public Health is one of ten regional Public Health Training Centers funded by the Health Resources and Services Administration.