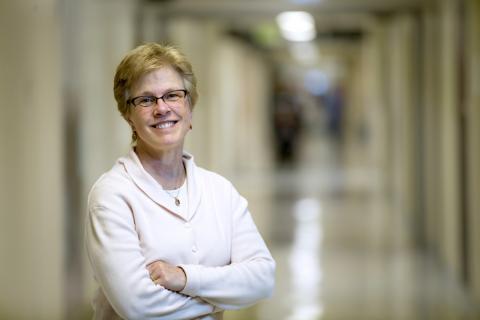 Photo: Stephen Brashear
NWCPHP welcomes Betty Bekemeier, a long-time NWCPHP faculty member with many years of experience as a researcher, leader, and front-line public health nurse, as its new director. Tao Sheng Kwan-Gett has stepped down as director to focus on teaching, research, and family.
Welcome Betty Bekemeier, New NWCPHP Director
NWCPHP is excited to welcome Betty Bekemeier, PhD, MPH, RN, FAAN, as the center's new director. An Associate Professor in the University of Washington School of Nursing and Adjunct Associate Professor in the School of Public Health, Bekemeier has a long history of successful work with NWCPHP. As a content expert and faculty member, she has led training activities, served as a reviewer for the center's nursing trainings, presented in the Hot Topics webinar series, guest-lectured, and written for the Northwest Public Health magazine.
Throughout her career, Bekemeier has emphasized the links between training, research, and practice. In addition to teaching, she is a leader in public health systems research, studying the practices of state and local health departments in an effort to improve effectiveness and reduce health disparities. Among other projects, she is the primary investigator on the Public Health Activities and Services Tracking study, an ongoing multi-state study to examine the health outcomes associated with variation in local public health service delivery.
Before coming to NWCPHP and the University of Washington, Bekemeier served in local public health practice in a variety of positions, including as a manager, evaluator, epidemiologist, and front-line public health nurse. Bekemeier has also served in leadership positions within the American Public Health Association and the Washington State Public Health Association. In addition, Bekemeier takes part in a number of public health and nursing associations and workgroups. Most notably, she is a Robert Wood Johnson Foundation Nurse Faculty Scholar and an active member and founding member of the Washington State Public Health Practice-Based Research Network and its Executive Committee. She is also a committee member on the Public Health Accreditation Board's Board of Directors Research Advisory Council.
As director, Bekemeier will oversee NWCPHP's activities, extending the center's long track record of outreach and public health capacity-building across the Northwest, and continuing the center's role as a focal point and catalyst for School of Public Health engagement with community partners.
"I'm thrilled to be taking on this important leadership opportunity," said Bekemeier. "It's a wonderful fit with my experience, passions, and commitment to strengthen the capacity and reach of our prevention systems. As a faculty member of NWCPHP for many years, I've marveled at how well the center has continually engaged a large practice audience and responded to workforce needs. I'm hoping to leverage this rich engagement to expand the center's support to the region in practice-based research. I greatly look forward to working across our sectors to assure healthy, effective prevention systems around the region."
A New Role for Tao Sheng Kwan-Gett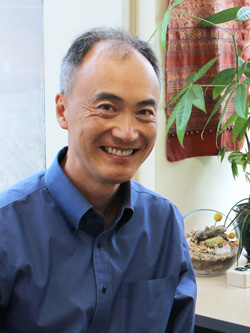 After more than two years as NWCPHP director, Tao Sheng Kwan-Gett, MD, MPH, will be stepping down to focus on his other passions: teaching, research, and family. He will continue to serve as an NWCPHP faculty member, helping with the Northwest Public Health Leadership Institute and serving as co-PI for the Washington State Innovation Model (SIM) Evaluation effort housed at NWCPHP. In addition to teaching and mentoring undergraduate and graduate students, Kwan-Gett will also help the UW School of Medicine integrate health equity and public health into its curriculum.
During his tenure as director, Kwan-Gett provided innovative leadership to NWCPHP's training, evaluation, communications, and research services. Under his guidance, NWCPHP took an active role in the region's health transformation efforts, advancing population health by forging new collaborations with health care and community-based organizations and strengthening ties to public health practice. Many of these collaborations focused on cross-disciplinary leadership training, particularly between public health and primary care. Kwan-Gett also helped lead community engagement efforts for the School of Public Health.
"NWCPHP has a bright future with Betty at the helm—she is a seasoned public health practitioner and one of the nation's premiere public health researchers," said Kwan-Gett. "It's been a pleasure to lead a team of such talented, hardworking colleagues, and I look forward to collaborating with them as a faculty member."