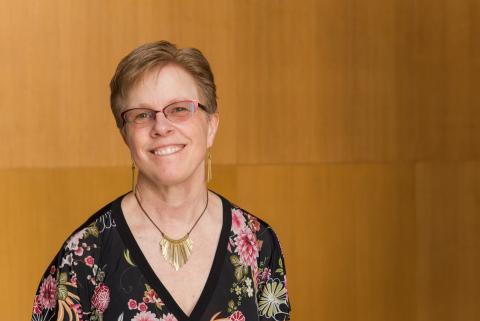 Betty Bekemeier, Director, Northwest Center for Public Health Practice
Get up close and personal with NWCPHP Director Betty Bekemeier.
As a young nursing student attending her required community health nursing class, Betty Bekemeier experienced firsthand the power of a positive role model.
"The instructor, Maura Egan, sort of flipped a light switch on for me," she said. Lessons and stories from her teacher about working in communities and across cultures convinced her that "that was the only thing I wanted to do—to be a public health nurse," said Bekemeier, whose career path has taken her from years teaching public health nursing in remote areas of Papua New Guinea, to her role now as director of the Northwest Center for Public Health Practice (NWCPHP).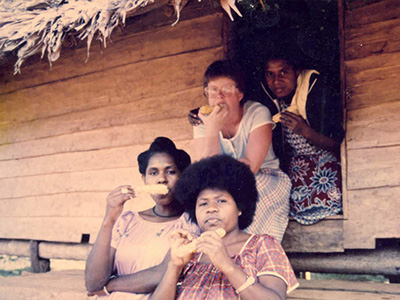 "If I'm teaching a class, I realize that I have the potential to flip that switch on for some students," Bekemeier said. "I make a point of using examples that 'ripped from the headlines' to show how relevant and critical public health interventions are for students—whether it's suicide prevention in a school district or a measles outbreak."
That excitement spills over to her role at NWCPHP, where, for the last year and a half, she has led a team driven by a collective desire to positively influence the community's health by improving public health practice. She shared her thoughts on some issues:
What is the Northwest Center for Public Health Practice?
It's the external face of the University of Washington, particularly the School of Public Health and the Department of Health Services, to the public health practice community in the region and nationally. We support excellence in public health practice through workforce development, building workforce and leadership capacity, generating evidence for practice, and evaluating public health programs and activities.
Tell us about exciting developments in public health practice.
In our region, there is growing interest in this notion of academic health departments (the collaboration of public health academia and practice). There is growing excitement in working more systematically together in very collaborative ways to generate evidence through joint research projects, such as the PERRCoLATE project.
There's also enthusiasm about ensuring a competent workforce for the public health practice pipeline through jointly developed system-wide training opportunities, such as NWCPHP's new Regional Pop-up Institutes. Another exciting development is the interest in our region toward evidence-based public health and maximizing our access to and use of data for decision making. We developed a really nice and very involved multi-module training that is of great interest and is related to this.
We're also excited about Washington and Oregon, together, having a leadership role nationally in establishing and articulating what our foundational public health services should look like and how they should be delivered and paid for. The idea is that there is a core set of public health programs and capabilities that need to be available in every community for people to be healthy wherever they are—a notion that's critical to promoting health equity.
Highlights
Who are your role models?
Bobbie Berkowitz (dean of the Columbia University School of Nursing) is one example. She's been a mentor of mine for over 20 years. She challenges me. Many times she has encouraged me to pursue new opportunities that I wasn't sure I could or should take on. But she's always been right. She is policy-oriented and a big thinker. These have been important characteristics for me to develop in myself too.
How would you describe your leadership style?
When I was interviewing for this job, I understood that the buck would stop with me and that I would have to make tough decisions. But I am also very collaborative. Collaborative leadership is important to me. I'm a think-out-loud kind of a person—I like to think together about opportunities and strategies, and capitalize on what everyone brings to the table. And I'm eager to have everybody at NWCPHP working to their highest level. That's what makes us a team. We fill different roles, and we respect one another for the roles that we fill. We do good work together.
What are your thoughts on diversity?
We need to better understand that in order to really improve population health and the disparities we see, we need to act on the structures that create inequities and undermine the opportunity for whole groups of people to achieve good health. What we've been doing, while well intentioned, has been inadequate at best and wrongly focused at worst. We have to do things differently. We need a more diverse workforce—one that doesn't often look like me—that can offer a variety of perspectives. We also need to work more effectively with our diverse communities—including tribal organizations, racial and ethnic minority groups, and LGBTQ populations—and with organizations that represent these communities. That has to happen not just through working with agencies that work with diverse communities, but by fostering diversity within our own organizations.
What are the challenges and the future of public health practice?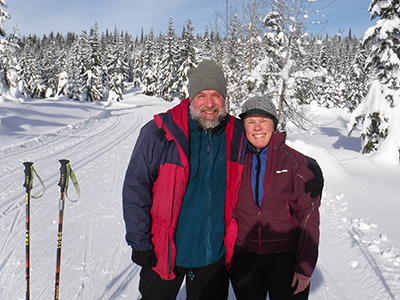 With husband, Ed, on top of Mount Amabilis, near Snoqualmie Pass, last winter
The exciting thing is that we see public health activities becoming more collaborative among different sectors, communities, and jurisdictions. Governmental public health plays a key role in this. But more and more, governmental public health is seeing itself as a facilitator of these cross-sector efforts. In my mind, collaboration means public health and prevention will be more effective, if we do them right, because we have more good minds and additional resources brought to the table. The challenge is developing the competency and generating the evidence to guide new types of practice.
What future do you see for NWCPHP?
The Northwest Center for Public Health Practice is as important as ever. Our partners need help developing capacity for addressing complex system problems and for generating critical evidence together. These needs are urgent and important. Our reputation is very strong in the region and nationally, and people depend on us to be responsive and supportive to help meet these needs.
What's life outside of NWCPHP?
I like to think of myself as a very outdoorsy person, even though I don't get out enough these days. I love skiing, kayaking, camping, and hiking. My husband, Ed, and I like to do all these things together. We're looking forward to rafting the Colorado River in the Grand Canyon this July!