Description
Have you ever wondered what epidemiologists do? This narrated, 45-minute course offers an overview of the purposes and uses of epidemiology in public health practice. It introduces concepts that are described more fully in our other online courses on epidemiology, and is a good place to start if you plan to take the nine-part series on epidemiology.
Learning Objectives
Describe the components of the definition of epidemiology
Recognize and explain basic epidemiologic concepts, principles, and terms
List and describe six examples of the use of epidemiology in public health practice
Intended Audience
Public health nurses and other front-line public health workers who have not had epidemiological training and who would like an overview of epidemiology.
Epidemiology Series
What Is Epidemiology in Public Health?
Data Interpretation for Public Health Professionals
Basic Infectious Disease Concepts in Epidemiology
Introduction to Public Health Surveillance
Introduction to Outbreak Investigation
Measuring Risk in Epidemiology
Cause and Effect in Epidemiology
Screening in Public Health Practice
Format
Web-based, Flash presentation. This online course has an audio narration and interactive exercises and scenarios. This course should take about 45 minutes to complete.
Module Instructor
Victoria Holt, PhD, MPH, RN
Northwest Center for Public Health Practice
School of Public Health and Community Medicine
University of Washington
Technical Notes
This course requires certain software and browser plugins to be installed. See our Technical Requirements.
The course may load slowly, depending on the speed of your Internet connection. Individual pages may also occasionally load slowly. You may find it helps to speed up the loading if you click the title of a page in the title list on the left side of the screen.
If the words on the screen or title list are too small, you can try to increase their size by expanding the browser to fill the entire screen, or you can change your screen resolution. (Refer to Windows Help for directions on changing your screen resolution.)
Accessibility
This online training course is audio narrated. Please note that the print version does not include interactive exercises, quizzes, or the final assessment. To receive a print version of the quizzes in this module, or if you have any difficulties, please contact nwcphp@uw.edu.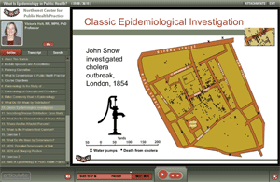 Topics:
Epidemiology
Infectious Disease & Immunizations
Competency Domains:
Analytical/Assessment Skills