Description
In late May, a man with extensively drug-resistant tuberculosis made two trans-Atlantic flights and evaded officials before the U.S. government placed him in quarantine. His case draws attention to several tuberculosis-related issues that public health practitioners have on their minds, including exposure, surveillance, isolation, and public health authority. In this one-hour Hot Topics webinar, which is part of the Hot Topics series, Scott Lindquist, MD, MPH, from the Washington State Department of Health provides an introduction to the epidemiology of global TB. The session offers critical information that reaches beyond the recent case to the broader implications for TB control and public health practice today, including diagnosis, treatment, and the emerging problem of drug resistance.
Learning Objectives
Describe the basic epidemiology of tuberculosis today
Identify diagnosis and treatment options using new technology
Recognize drug resistance patterns, including multidrug resistance and XDR-TB
Intended Audience
Local and state public health practitioners; Public health nurses; Local and state emergency management staff; Primary care providers; Students
Presenter
Scott Lindquist, MD, MPH, has served as the Director of the Kitsap County Health District since 2001. As the county's lead public health official, he has assessed healthcare disparities in the community and the specific developmental health needs related to the population's differences. Dr. Lindquist consults nationwide on a range of pediatric and adult infectious disease issues, including tuberculosis. He is also a national bioterrorism expert who led the region's bioterrorism task force after 9/11.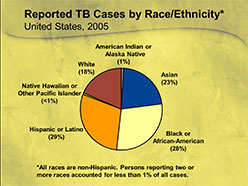 Air Date:
Tuesday, July 17, 2007,

12:00 pm

to

1:00 pm

PDT
Topics:
Epidemiology
Infectious Disease & Immunizations
Competency Domains:
Analytical/Assessment Skills
Community Dimensions of Practice Skills
Cultural Competency Skills
Leadership and Systems Thinking Skills
Policy Development/Program Planning Skills