Description
Finding and treating Latent Tuberculosis Infection (LTBI) cases, people who are exposed to the bacteria but asymptomatic, is challenging since these individuals may not seek preventive treatment. In this one-hour webinar, tuberculosis prevention and control staff from the Washington State Department of Health, Kitsap Public Health District, and Public Health Seattle King County for a Special Bulletin Webinar about the Centers for Disease Control and Prevention's most recent guidelines regarding LTBI. Presenters cover diagnostics, treatment options, directly observed therapy guidelines, and a cost analysis of three drug regimens.
Learning Objectives
Describe LTBI diagnostics
Define Directly Observed Therapy and the options available
Comprehend the cost analysis of the 3 LTBI drug regimens
Intended Audience
Local and state public health practitioners; Public health nurses; Local Health Jurisdiction TB Programs;Tribal Health Providers
Presenters
Scott Lindquist, MD, MPH completed his medical training at the University Of Washington School Of Medicine as a student of the WAMI (Washington, Alaska, Montana, and Idaho) program. In addition he serves as a pediatrician and public health officer at the Port Gamble S'Klallam Tribal Medical Clinic where he has worked one day/week since 2001. He also serves as the Tuberculosis Medical Consultant for the Washington State Department of Health, a position he has held since 2002.
Masa Narita, MD, is a TB control officer and has directed the TB control program at Public Health - Seattle & King County since 2002. He is an associate professor in the Division of Pulmonary and Critical Care Medicine at University of Washington, and also serves on federal advisory council for the elimination of TB.
Sheanne Allen, BS, received her Bachelor of Science degree from the University of Wisconsin at La Crosse, majoring in community health education. She retains certification from the National Commission for Health Education Credentialing as a master community health education specialist (MCHES). From 2005 – 2011, Sheanne served as the TB Education Promotion Consultant for the Washington State Department of Health TB Program.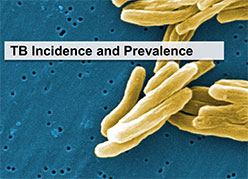 Air Date:
Wednesday, May 30, 2012,

12:00 pm

to

1:00 pm

PDT
Topics:
Infectious Disease & Immunizations
Competency Domains:
Analytical/Assessment Skills
Financial Planning and Management Skills
Policy Development/Program Planning Skills