Description
There is growing evidence that nutrition and growth in early life—during pregnancy, infancy and childhood—has an impact on chronic disease in adulthood. When state and local public health departments take steps to ensure the nutritional health of mothers and children they invest in the future health of the communities they serve. This 75-minute online course, based on a life course framework, is designed to help public health leaders describe the role of maternal and child nutrition in population health and identify actions they can take to create equitable access to healthy foods and food environments. By the end of the course you will be able to use the life course framework to design effective nutrition initiatives to improve population health.
Learning Objectives
Describe the role of maternal and child health (MCH) nutrition in the lifelong health of the population
Access resources for assessment, assurance, and policy development for MCH nutrition
Identify ways to integrate MCH nutrition within state and local public health agencies
Apply the principles of the life course framework for population-based public health actions and initiatives
Intended Audience
Public health practitioners, planners, and administrators
This HTML-based online course has interactive exercises (Flash-based) and should take approximately 75 minutes to complete.
Course Instructors
Donna B. Johnson, PhD, RD, University of Washington
Elizabeth Adams, PhD, RD, Oregon Health & Sciences University
Marion Taylor Baer, PhD, RD, UCLA
Leslie Cunningham-Sabo, PhD, RD, Colorado State University
Dena Herman, PhD, MPH, RD, UCLA
Technical Requirements
This course requires certain software and browser plugins to be installed. See our Technical Requirements page for details.
Accessibility
This online training course is text-based and is designed for accessibility. Please note that the print version does not include interactive exercises, quizzes, or the final assessment. Flash-based interactive exercises and quizzes in the course may not be accessible to screen readers. To receive a print version of the course, please contact nwcphp@uw.edu. If you have any difficulties in accessing the information given in any of our documents or need further assistance, please contact nwcphp@uw.edu.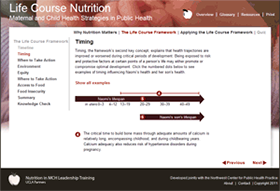 Topics:
Chronic Disease
Law and Policy & Ethics
Maternal and Child Health
Vulnerable Populations & Health Disparities
Competency Domains:
Community Dimensions of Practice Skills
Policy Development/Program Planning Skills
Public Health Sciences Skills