In this one hour webinar, which is part of the Hot Topics series, Bruce Clements, MPH, will describe one rural community's response to a major industrial disaster.
Learning Objectives
Describe the public health and health care implications of a major industrial explosion.
Summarize how public health emergency preparedness and hospital preparedness program capabilities were successfully operationalized during the response.
Identify essential public health and health care systems lessons learned from this response.
Intended Audience
Local, state, and tribal public health practitioners; emergency management staff; public health emergency preparedness (PHEP) and hospital preparedness program (HPP) contractors and stakeholders
Presenter
Bruce Clements, MPH, is the Public Health Preparedness Director at the Texas Department of State Health Services.
Discussion Questions
These questions are designed to further your thinking on the topic covered in this webinar. You may print and discuss them with colleagues and other members of your organization before or after watching this webinar.
How common are industrial fertilizer operations like this in your jurisdiction?
How closely are these types of facilities located to schools, long term care facilities and other vulnerable populations?
Are you prepared for the challenges of mass fatality management, including establishing a family assistance center?
Resources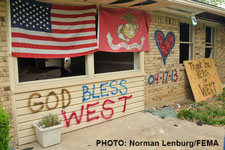 Air Date:
Tuesday, November 19, 2013,

12:00 pm

to

1:00 pm

PST
Topics:
Emergency Preparedness & Disasters
Competency Domains:
Communication Skills
Community Dimensions of Practice Skills
Cultural Competency Skills
Leadership and Systems Thinking Skills
Policy Development/Program Planning Skills