On the evening of May 22, 2011, a half mile-wide tornado ripped through Joplin, Missouri destroying 30 percent of the city in 10 minutes. In this one hour webinar, which is part of the Hot Topics series, Joplin Police Chief, Lane Roberts, recounts the events of the storm from the early warning signals to the community's recovery. Roberts also discusses the details and decisions that made this a successful coordinated response between state and local emergency management staff.
Learning Objectives
By the end of this session participants will be able to:
Recognize the unique nature of a tornadic event
Compare the nature and success of the response to other disasters
Identify and evaluate the decisions that distinguish this disaster response
Intended Audience
Local and state public health practitioners; Public health nurses; Local and state emergency management staff; Volunteer organizations such as American Red Cross; First responders
Presenter
Lane Roberts, MS, has been a police officer since 1971. Chief Roberts has served in his current role as Chief of Police for Joplin, MO since 2007. Prior to that, he was the Chief of Police in Redmond, OR for seven years. Chief Roberts has also served as Undersheriff of Yakima County, WA, Chief of Police of Union Gap, WA, and Chief of Police of Twisp, WA. He received his Master of Science degree from San Francisco Technical University and is a graduate of the Northwest Executive Command College. Chief Roberts currently serves as the Regional Vice President of the Region 3, Missouri Police Chiefs Association and was appointed by Governor Jeremiah Nixon to the Missouri Peace Officer Standards and Training Commission.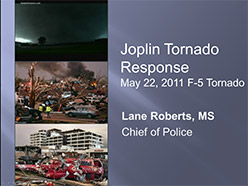 Air Date:
Tuesday, January 10, 2012,

12:00 pm

to

1:00 pm

PST
Topics:
Emergency Preparedness & Disasters
Competency Domains:
Communication Skills
Community Dimensions of Practice Skills
Financial Planning and Management Skills
Leadership and Systems Thinking Skills
Policy Development/Program Planning Skills