Description
In this one hour webinar, which is part of the Hot Topics series, representatives from state and local health jurisdictions deconstruct their decision-making processes to activate Incident Command, respond to emergencies, and ensure business continuity. Representatives from Washington State and the CDC lead off the discussion by describing the algorithm they developed to help public health executives address situations that blur the line between the routine and non-routine. A team from Idaho's Central District Health Department will then explain how they used Incident Command to manage a prolonged syphilis outbreak.
Learning Objectives
Recognize conditions for Public Health ICS activation
Identify key information leaders must possess to make a decision about ICS activation
Evaluate when ICS deactivation is warranted
Describe methods to overcome challenges in implementing ICS in short- and long-term public health responses
Intended Audience
Executives, directors, and managers in public health organizations; Local and state public health practitioners; Emergency Preparedness staff
Presenters
Rob Howarth, MS, Environmental Health and Preparedness Division Director, Idaho Central District Health Department
Dave Kennedy, BS, MBA, Chief of Plans, Training, Exercise, and Evaluation Branch, Centers for Disease Control and Prevention, Georgia
Jefferson Ketchel, MA, Administrator, Grant County Health District, Washington
Kimberly Link, ScM, Communicable Disease Program Manager, Idaho Central District Health Department
Jennifer Tebaldi, BS, MBA, Assistant Secretary, Disease Control and Health Statistics, Washington State Department of Health
Discussion Questions
Thank you for your interest in this Hot Topics webinar. These questions are designed to further your thinking on the topic covered in this webinar. You may print and discuss them with colleagues and other members of your organization before or after watching this webinar.
How do we know when is the right time to activate the Incident Command System (ICS) for a public health emergency?
Can ICS help a public health agency respond to a routine public health event (e.g. outbreak) that is quickly becoming "non-routine"?
Who has the authority in your organization to make the decision to activate your ICS system?
If you stand up your ICS in an EOC, who performs all the general staff functions such as Finance and Administration, Logistics, Operations, Planning? Is it your staff?
What value do you see in utilizing ICS during public health responses?
What challenges have you faced in effectively using ICS to organize a real-world response?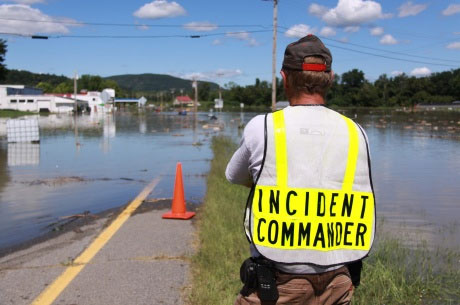 Air Date:
Tuesday, January 15, 2013,

12:00 pm

to

1:00 pm

PST
Topics:
Emergency Preparedness & Disasters
Leadership & Management
Competency Domains:
Analytical/Assessment Skills
Communication Skills
Community Dimensions of Practice Skills
Policy Development/Program Planning Skills