Description
NWCPHP collaborated with the Network for Public Health Law to create a toolkit that outlines the principles of quality presentations and slide design.
Learning Objectives
Understand the basics of slide presentation design
Construct a cohesive set of materials to present
Define audience, venue and how to most effectively present in the environment
Intended Audience
Public health lawyers; Any professional who wants to improve their presentation skills
Background
In the spring of 2012, NWCPHP conducted key informant interviews with individuals within the Network for Public Health Law and used the insight gained to build the following practical tools and services for public health professionals and their attorneys:
Consultation and coaching for public health law and policy trainers.
Online public health law training database.
Three online training modules on priority public health law and policy topics.
Toolkits and guidelines for developing and delivering public health law trainings.
The design of this toolkit was updated in 2014 to reflect NWCPHP's new branding.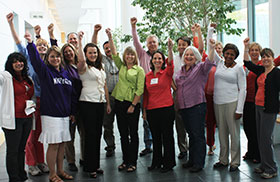 Topics:
Communication
Tools and Resources