Description
NWCPHP collaborated with the Network for Public Health Law to create a toolkit that outlines the principles of adult education for those who lead trainings, from conference workshops to seminars.
Learning Objectives
Defining audience, purpose, learning objectives, and methods for delivery
Understand how to choose and develop training content
Gain insight into facilitating and delivering your training effectively
Write measurable learning objectives
Intended Audience
Public health lawyers; Any professional who leads trainings for adults
Background
In the spring of 2012 NWCPHP conducted key informant interviews with individuals within the Network for Public Health Law and is using the insight gained to build the following practical tools and services for public health professionals and their attorneys:
Consultation and coaching for public health law and policy trainers.
Online public health law training database.
Three online training modules on priority public health law and policy topics.
Toolkits and guidelines for developing and delivering public health law trainings.
The design of this toolkit was updated in 2014 to reflect NWCPHP's new branding.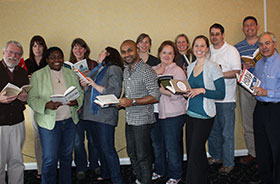 Topics:
Communication
Tools and Resources