In this one hour webinar, which is part of the Hot Topics series, emergency preparedness leaders from Montana share their unique experience using a zombie-themed exercise to enhance community preparedness.
Learning Objectives
Learn about integrating a zombie theme into a point of dispensing (POD) exercise.
Recognize effective methods of gaining participation with community partners.
Identify the potential advantages and drawbacks of using a third party consultant in preparing and conducting field based exercises.
Describe how learning from a specific exercise can be applied to other incidents.
Intended Audience
Local, state, and tribal public health leaders and managers; emergency preparedness staff
Presenters
Sue Hansen, BSN, RN, Director, Beaverhead County Public Health
Brett Lloyd, BS, MEP, CHEC, Owner and Senior Consultant, Spartan Consulting
Adam Powers, BS, Preparedness Training and Exercise Coordinator, Montana Department of Public Health and Human Services
Discussion Questions
These questions are designed to further your thinking on the topic covered in this webinar. You may print and discuss them with colleagues and other members of your organization before or after watching this webinar.
Do you think this type of zombie-themed exercise could be used to engage community partners in your area?
After viewing this webinar, would you be willing to take an unconventional approach to community preparedness?
How important is it to do in-the-field exercises as well as table top exercises?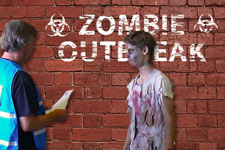 Air Date:
Tuesday, October 22, 2013,

12:00 pm

to

1:00 pm

PDT
Topics:
Emergency Preparedness & Disasters
Competency Domains:
Analytical/Assessment Skills
Communication Skills
Community Dimensions of Practice Skills