Description
A pandemic flu event. An earthquake. There are any number of disasters that can disrupt the work of your institution. How do you keep business, research and academic functions on track? This series of three continuity tabletop exercises will allow you to simulate such an event and discover the strong and weak links in your response and continuity plans. The exercises lead to the creation of stronger policies and better emergency response. This resource includes templates for you to customize for your organization.
Learning Objectives
Enhance understanding of current Emergency Preparedness and Continuity plans
Identify gaps in Preparedness and Response plans
Foster collaboration and coordination opportunities among internal departments and outside agencies
Clarify roles and responsibilities of faculty, staff, and students in a large scale public health emergency
Contents
First wave pandemic flu scenario
Second wave pandemic flu scenario
Earthquake scenario
Resources
These Emergency Preparedness: Continuity tabletop exercise resources were originally designed for a University of Washington School of Public Health emergency preparedness and continuity drills held in 2009, 2010, and 2011. Other universities, community colleges, health departments, and organizations are welcome to modify and use them in their own preparedness exercises.
The resource includes planning materials, PowerPoint slide set, handouts, day of event logistics, and evaluation templates and criteria.
Lead Course Developer
Andy Stergachis, PhD, RPh
Northwest Center for Public Health Practice, School of Public Health, University of Washington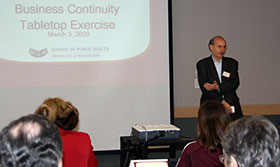 Topics:
Bioterrorism
Emergency Preparedness & Disasters
Infectious Disease & Immunizations
Competency Domains:
Analytical/Assessment Skills
Communication Skills
Policy Development/Program Planning Skills