Description
In emergencies, limited English proficient populations are one of our most vulnerable populations. Communicating effectively can be challenging due to language, cultural, technological, and logistical barriers. This 90-minute webinar from the Community Engagement and Communication Trainings series looks at how to establish communication plans with these communities in advance of an emergency. Presenter Missie Thurston examines methods of communication, including traditional media and social media, and provides case studies and sources for additional information.
Learning Objectives
Describe how audience research improves communications planning
Describe the benefits of using various forms of communication (including storytelling and pictorial communication) to reach lower literacy and immigrant populations
Use social media as a tool to better understand and communicate with specific populations
Intended Audience
Local, state, and tribal health departments of various sizes
Purpose
The Los Angeles County Department of Public Health contracted with the Northwest Center for Public Health Practice to develop a series of trainings to:
Improve preparedness communication strategies and tools for limited English proficiency (LEP) populations
Improve use of social media in emergency communication
Understand the use of community engagement strategies to improve preparedness
Format
NWCPHP developed a series of trainings to address these issues. The trainings are applicable to local, state, and tribal health departments of various sizes. The complete suite of trainings included two 1 1/2-hour webinars and one half-day in-person workshop. The two webinars were archived. The third, in-person workshop was interactive and not archived. NWCPHP can replicate this entire series of trainings for other communities upon request.
Community Engagement and Communication Training Series
Part 1: Communicating with Limited English Proficiency Populations (Webinar)
Part 2: Text Messaging for Public Health Emergencies (Webinar)
Part 3: Helping LEP Communities Prepare for Emergencies (In-Person Training)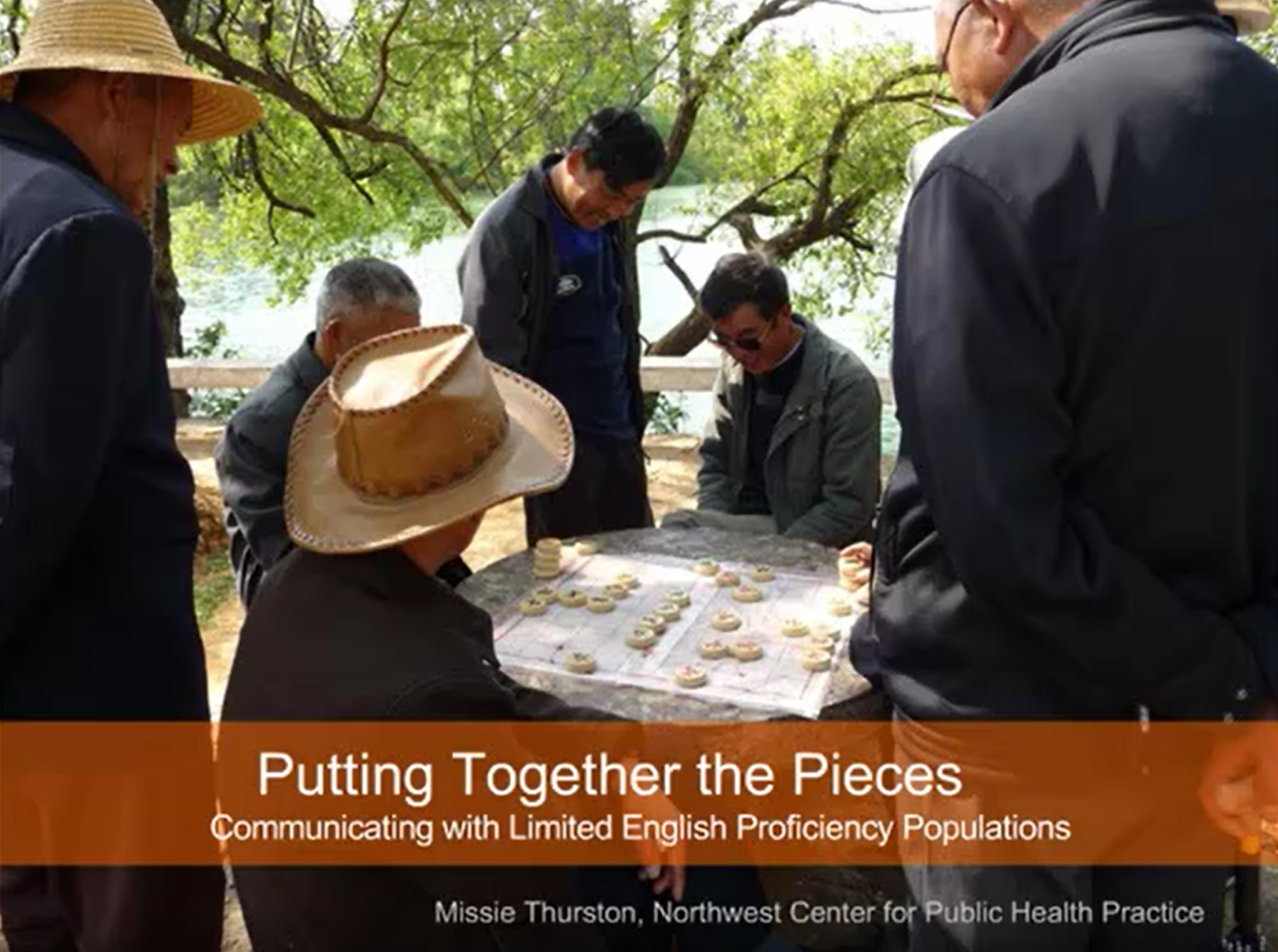 Air Date:
Tuesday, July 26, 2011, 12:00 pm PDT
Topics:
Communication
Emergency Preparedness & Disasters
Vulnerable Populations & Health Disparities
Series:
Community Engagement and Communication
Competency Domains:
Communication Skills
Cultural Competency Skills