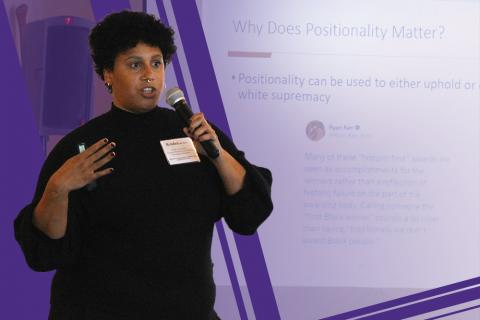 Kendra leading Positionality Workshop
As the COVID-imposed hiatus expires and the Northwest Center for Public Health Practice prepares to bring back its Public Health Management Certificate, we sat down with faculty member Kendra Liljenquist to discuss how her workshop on positionality is applicable to public health leaders.
"This workshop on positionality is a really important concept for successful leaders and managers to understand," Kendra said. She explained that positionality is, "The idea that each of us has different identities we assume as we go about our day-to-day. This could be our racial identity, our gender, our religious affiliation, and all the other ways that we fit into our society and culture."
"Each of these positions connects and overlaps with other positions in a manner we call, Intersectionality," Kendra added. "And these intersections of identity come with certain narratives. For example, I'm a biracial woman who grew up in the Seattle area, and the intersection of those identities has certain stories attached to it. Those narratives can be constructive or they can be harmful, they can be used to pursue freedom and equality or they can be narratives that marginalize or oppress."
"What my workshop does is encourage everyone who participates to understand their own positionality — who they are in relation to various social structures — as well as the narratives that come along with those identities. As we begin to understand both our identities and the narratives tied to them — and to be clear, that's an ongoing process, not a one-and-done type thing — we're better able to understand and connect with others."
As the Principal Investigator in the Center for Child Health, Behavior and Development at Seattle Children's Research Institute, Kendra puts these lessons into use on a daily basis. "My work focuses on designing and implementing programs to enhance diversity and equity in the health sciences. I'm also trying to lead teams who can question existing service structures and ultimately deliver healthcare in better ways for children."
"Both of those are huge goals, and in order to achieve them I really have to understand who I am as I'm working with others. Understanding myself and where I'm situated in various settings allows me to meet eye-to-eye with clinics and organizations, see their goals and desired outcomes, and then collaborate effectively with them."
Kendra emphasized that positionality is an active and ongoing process of understanding. "None of us is ever going to totally understand every other person or culture," Kendra noted. "Instead, we're aiming for a cultural humility that acknowledges our shortcomings and makes space for growth."
"I think this information is really important for anyone who's interested in being a manager or a leader," Kendra added. "Developing the ability to understand yourself and others is so essential when you're addressing conflicts and misunderstandings that happen in the workplace. In my experience, that's a huge part of what's involved in being a successful leader."
"I enjoy facilitating these discussions and helping people think about their own experiences in ways that are new," Kendra noted. "I really think that this workshop gives leaders and managers the skills necessary to engage with a wide range of people in constructive and honest ways."
The Public Health Management Certificate is a year-long program focused on helping public health professionals develop core management skills. Kendra's workshop takes place during the kick-off sessions in August.
Applications for the 2023–24 program are accepted through May 31, 2023, with early-bird rates available to those who apply by April 14. To learn more about the Certificate and apply, visit the Public Health Management Certificate.