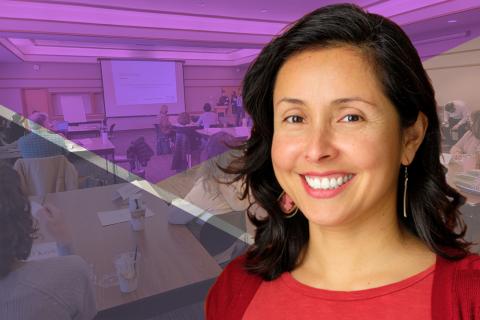 Leadership Institute Director, Antoinette Angulo.
Antoinette Angulo is excited to bring her experiences in community health, training and facilitation to her position as the new director of the Northwest Public Health & Primary Care Leadership Institute.
"I'm honored to step into this role," Antoinette said. "The public health and primary care workforces have a special place in my heart."
Antoinette has been working as a community health advocate and a bilingual and bicultural qualitative researcher for decades. She served as a Peace Corps volunteer in Nicaragua, director of preventive health services with Sea Mar Community Health Centers, a digital storytelling trainer with Creative Narrations, policy director at the Latino Center for Health, and was previously a faculty facilitator with the Leadership Institute.
"Working with all these diverse groups and listening deeply to them has informed my understanding of how good public health practice is done," Antoinette said. "As a Chicana from East Los Angeles and a first-generation college graduate, I'm very aware of the social, economic, and political determinants of health. I've come to see how absolutely essential it is for public health and primary care providers to understand our interconnectedness and work together to advance health equity."
Antoinette pointed to the COVID-19 pandemic as revealing the challenges faced by both primary care and public health workers. "I could see the difficulties and frustrations mounting as the pandemic continued. But no matter how difficult things became, providers kept showing up every day. They're truly the unsung heroes of our time."
In addition to her professional background, Antoinette is also married to a primary care provider, Dr. Julian Perez at Sea Mar Community Health Centers, which gives her a unique window into the real-time challenges both groups face. She believes that the Leadership Institute enables public health and primary care workers to break out of their institutional silos, better understand one another's worlds and collaborate effectively.
"This program is perfect for emerging health professionals looking to take their leadership abilities to the next level," Antoinette explained. "This is a great opportunity for someone who's experienced in putting out the fires of day-to-day operations and driving programming, who's managing up as well as down, and who's now ready to enter a unique space that launches personal and professional growth."
The Leadership Institute provides the conditions and opportunities for scholars to engage with experts from across the healthcare spectrum. "We want our scholars to be inspired by speakers, panelists, and peers," Antoinette explained. "And we encourage them to reflect critically upon their own leadership styles, to consider different approaches, and learn from others' perspectives."
"We do a lot of problem-based and critical reflection learning processes. This allows scholars to leverage their expertise when working through case studies and leadership challenges. We also build upon anti-racist frameworks that explore how health systems have historically disadvantaged certain populations and led to poorer health outcomes."
Antoinette understands how difficult it can be for practitioners to set aside time for programs such as this. "It's easy to get lost in the day-to-day challenges of our jobs, but it's so important to step back and take that 30-thousand foot view on ourselves. To anyone who's considering the Leadership Institute, I say:  Get ready to be inspired! There's going to be something great and useful in this program for everyone."
The Leadership Institute is also excited to welcome Carolina Lucero, MSW, who joins Gary Goldbaum, MD, as a faculty mentor. In addition, Nicole Sadow-Hasenberg, MPH, is stepping into a faculty facilitator position alongside Yolanda Fong, MN, and Jennifer Jones-Vanderleest, MD, MSPH.
The 2023 Leadership Institute begins its first onsite session March 15–17 in Seattle. To learn more about Antoinette or the program, visit the Leadership Institute. Applications for the 2024 cohort will be opening later this summer.