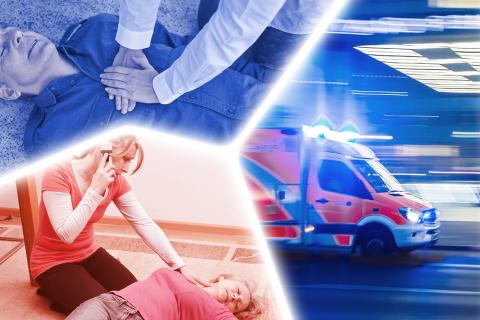 In partnership with Public Health - Seattle & King County's Emergency Medical Services (EMS) division and the University of Washington School of Public Health's undergraduate program, the Northwest Center for Public Health Practice has launched a new self-paced online course titled 9-1-1 and You: Preparing Bystanders for Emergencies.
The pressure of responding to an emergency situation can be overwhelming. Often, individuals feel unprepared to intervene when witnessing a life-threatening situation, like a stroke or cardiac arrest. In many cases, even recognizing the signs and symptoms of these conditions is difficult. While this is true for any person, it's especially hard for older adults who don't speak English as their preferred language. Often, these individuals rely on other members of their community to assist them with important health information.
9-1-1 and You was designed specifically for younger adults who live in communities where English is not a preferred language, and who may have limited experience in responding to emergency situations affecting the older adults that they know. By addressing information gaps with straightforward, relevant, and culturally aware resources, this course aims to motivate young adults to both recognize and respond to medical emergencies, and share this potentially life-saving information with the older adults in their lives.
In the first module, 9-1-1 Basics, learners practice communicating with 9-1-1 call-takers, and learn how to request an interpreter when calling 9-1-1. In the second module, Responding to a Stroke, learners walk through the steps of conducting a F.A.S.T. exam and identify the risk factors and symptoms of a stroke. In the final module, Responding to Cardiac Arrest, learners identify the difference between cardiac arrest and a heart attack, and learn how to perform CPR and how to operate an automated external defibrillator (or AED). In each module, there is a specific focus on sharing this life-saving information with loved ones and community members.
"'Empower' was an important word that kept coming up throughout the development process," said Erica Ellis, an Instructional Designer who helped develop the course. "One big goal we had was to counter feelings of doubt or fear that can understandably come up for young folks and older adults who find themselves in emergency situations. We know that with the right information and resources, it's within our power to step up and be protective resources for our communities. But these facts and processes need to be communicated in an empathetic, culturally responsive way."
"We were lucky to have a diverse group of undergraduate students from the School of Public Health contribute key content for this course," said Hendrika Meischke, a professor in the Department of Health Systems and Population Health, who served as a content expert for the course. "And what results is a very impactful resource. Their diligence and creativity really shines."
Special thanks go to Hannah Bauer, Jamie Emert, Marlee Fisher, and Laura Miccile for contributing their expertise and support to this project.
This no-cost, self-paced series can be accessed by creating an account in PH LearnLink. Visit the 9-1-1 and You course page to learn more.